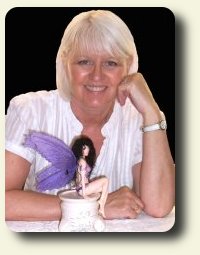 From the Clan MacFae comes The One. The One who breathes life into tiny polymer clay fairies, mermaids and dragons. Each tiny, fragile life springs from her hands after a long and laborious birthing period of 30-50 hours.
Who is this goddess of Fae creatures?
This oh-so-magical being is none other than PGM Sculpting's Faerie sculptress Phyllis Morrow, whose family roots lie in the fae-filled countries of Ireland, Scotland and Denmark. Coincidentally enough, her chosen world to bring to life through sculpture is that of Faerie, in 1:12 and 1:6 scales.
"I am a sculptor, it is a BIG passion. It lets my love of the fantasy world come to life through my fingers. I have loved fairies and the mystical world since I was a child – I still think about fairies and mystical creatures 24 hrs a day!
"There are so many of them dancing around in my head just crying to be born. I just can't seem to squeeze enough time out of the day. I love every step of creating my little fantasy people. I work anywhere from 30 to 50 hours on each sculpt. But my favourite part of their creation is their final blushing: I blow a soul into them as they take my breath away," she said.
Like many other artists in her field of Faerie, the world of Froud faeries captured this self-taught artist's heart early.
"Wendy Froud was the first artist whose faeries looked like I thought faeries should look like. They captured my heart and soul. The grace in Forest Rogers sculpts is untouchable. But the fairies that melt my heart are those of Judy Raley of Once We Were Faeries. They capture the innocence and beauty I love," said Morrow.
Her first sculpt was full of innocence but not so much of beauty.
"My first miniature sculpture was a 6-inch mermaid. I thought she was so beautiful! She is the only sculpt of mine that I own and she really is so ugly that I would not and could not sell her if I tried," Morrow said, laughing. "She will always be special to me and I love her for being my first."
All of her sculptures are as unique as her first mermaid.
"I use no molds so each one is unique. I do not want one to look like the other. I want them each to have their own personality. They will be the only one in the whole world. Isn't that so exciting!" she said.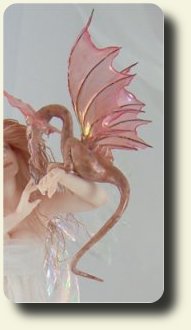 "At this time my favourite book is called Creating Life-Like Figures in Polymer Clay, by Katherine Dewey. I call it my Sculpting Bible. I bought it 4 years ago when I first started sculpting and it was the best purchase I ever made," she said.
"But really I find inspiration everywhere I look: on TV, the Internet, books, at the stores where I shop even music can inspire me. Venturing out into the Internet world has let me view studios and galleries of many wonderful artists all over the world. How lucky we all are to have this at our fingertips.
"I am also what you would call a people watcher. I love people, especially the human face - I can sit and study faces for hours," she said.
Her home studio in Prosser, WA is her favourite place to be, from which she cannot only create her sculptures but place them up for sale on Ebay, where she sells her creations. With sales ranging between $400.00 to $500.00 a piece she has come a long way from her first sale of $78.00 four years ago. "My highest sale has been $910. I am still praying for the day I will hit $1000. I really have to thank my son and son in-law who believed in me enough to push me to start sculpting an income.
"My husband is very supportive too, but he can't remember one fairy from another! And my oldest granddaughter is my biggest fan and helps me in the studio," said Morrow.
As a mother of two and grandmother of four who has been married for 40 years, spending time with her family, especially camping or fishing, is one of her greatest joys – although she's never caught a mermaid.
"I love camping with my family, and fishing. I also love to scrapbook. I love what you can create with paper - how you can change a boring photo album into a beautiful picture book. It can be very addictive. So anything I find I can use I collect. My family hates to take me shopping because I get so side tracked looking for things to put a fairy on or to put on a fairy," she said.
Besides her fantasy sculptures she has dabbled in an impressive array of arts and crafts, including woodworking, painting, drawing, baking and decorating fancy cakes and sewing.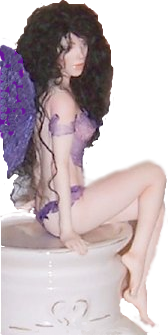 "I am an artist and very proud of it," she declared.
"My favorite thing to do is watch the expressions of people when I tell them I sculpt. They always say, 'You sculpt?' before asking me what I sculpt. When I tell them fairies and mermaids most of the time their reply is "Oh". I can tell by their expressions and the tone of their voice, they have no idea what I am talking about. So I whip out my grandma's brag book with photos of my fairies and mermaids and show them," she said.
Her dream, besides someday being able to draw and paint the Fae visions in her head, is to own a piece of the MacFae family plaid and to continue to grow as an artist.
"My goal is to grow and grow in this art form. I would love for someone to see my work in a doll magazine and feel the way I did when I first saw sculpted faeries. I want them to see something magical, like I did. Oh, my heart just pounds excitedly at the thought," she said.
Besides CDHM, she is a member of ADSG, One of a Kind Fantasy Sculpting Guild, Epilogue, The Fairy Society and the World of Froud. "I have met some of my best friends in the groups. Everyone is so great," she added.
Her art has been featured in an article in Doll Magazine, June/July 2007 issue.
Want to see more of Phyllis' work? Visit her CDHM Gallery by clicking here!