Artist:
Lauretta Carroll, doing business as 'Midnight Magic Miniatures'.
Where do you live?
Long Island, New York, USA
What do you make?
I make hand made 144th scale houses and roomboxes. I also make 144th scale shops and structures not normally found in ready made kits such as greenhouses, lighthouses, and gazebos.
When did you first become interested in miniatures?
I was bitten by the miniature bug when I was very young. I would spend more time building rooms for my Barbie™ dolls than playing with the dolls.

At 17, I received my first real dollhouse, a Harrison, in 1/12th scale, which I worked on for years. Later, I joined a club, which sent miniature furniture and accessory kits each month for members to put together; so I was always working on one miniature or another. I learned a lot from working with those kits, about how furniture should be put together at smaller scales. I also learned many valuable lessons about what not to do. Some of my early attempts at building were, shall we say, in need of help. That's how I furnished the Harrison though. I spent hours at the local craft store looking through the aisles of miniature products making a wish list in my head.

Then, as now, I kept myself to a very strict budget when purchasing things to furnish my houses or decorate room boxes. This forced me to become more creative and begin to build my own furnishings and accessories.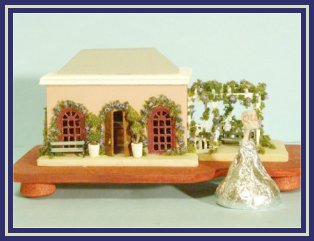 Where do you make your miniatures?
The first dollhouse I ever built was a collaboration with my father. We made a two story dollhouse with six large rooms for my sister. Since space was an issue, the entire house was made so that it could fold down into a suitcase - sized box, which could be stored under her bed.

After years of working in 1/12th scale, my work space was reduced to the dinning room table. After realizing people did not want to eat dinner next to a 24 inch roombox whose wallpaper and paint was "still drying", I had to make a hard decision: give up miniatures or make a change.

So in January 2006, I started working in 1/144th scale and it's brought me back to where I started. New tools, new techniques and new problems to work out, but I feel like I'm 17 again. I look forward to every project with as much excitement as the last.
Where do you find inspiration?
I find inspiration everywhere! I will see a photo in a magazine and start to ponder the possibilities of creating it in 144th scale. When I'm in the car I constantly see ideas for houses, roofs and architectural details, which I incorporate into my pieces. An interesting roof line may be just the thing to make a simple house unique. I never know what will spark my imagination.

I also look to other craftsman in the miniature community. Not to plagiarize, which I am adamantly opposed to, but there are so many talented people that are willing to give you a tip or show you an idea they used to solve a problem. I am constantly awed by this.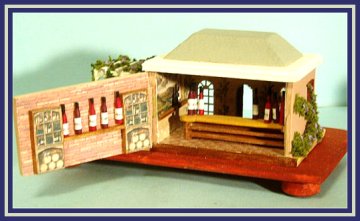 Where do you sell your products?
My CDHM Gallery is a gateway for me right now. I sell a major portion of my work through the internet and commission work.

This is not a cookie cutter operation. I have spent more time on a three story 144th scale house than I have for a 1/12th scale house kit. It is very labor intensive to create at this scale and each piece I make has its own complexities. I guess if I were to make a dozen houses exactly alike I could produce more, but that is not my goal.
What is the price range for your products?
For a one story piece, which includes store fronts, gazebos and greenhouses, the average price is $45.00. For three story houses, which include finished interiors and landscaped exteriors, the price ranges from $75.00 to $125.00. Custom work pricing is based on the buyers requirements. I have made a small shop that duplicated the buyers 12th scale shop in every detail right down to the flooring and had to charge a little more than usual, but I try to keep my pricing as low as I can.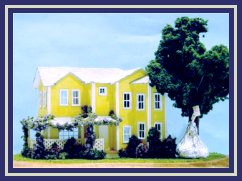 Do you belong to any groups or clubs?
Only Custom Dolls, Houses & Miniatures, which has such a diverse and talented membership that is really focused and seems to understand passion for miniatures in every form, that I really do not need to join anything else. There are many other groups I have belonged to in the past, but CDHM has it all!
What does your family think of your art?
They are all very supportive and appreciate my work, however when I sell a piece I'm always admonished for selling so low. They say they wish they had a nickel for every hour I put into my work. But again, it's my passion. I don't understand collecting baseball cards or collecting Elvis memorabilia either, but I understand why people do it. It's their passion.
Do you run workshops?
I would love to run workshops and it is one of my goals for the future. Right now my craft is in its infancy and I can't really imagine how to put anything in a workshop format. I'm still learning how to do things myself, so I would like to hone my skills before passing it on to others.
Do you attend shows?
No, right now circumstances prevent me from attending shows, but in future, as they say, is wide open to the possibility.
What recommendations do you have for new mini-makers?
Join a group and ask questions!

A good miniatures group will offer a wealth of knowledge you can't find in books or surfing the internet. So much time and money can be wasted trying to find the best tool or the easiest technique for a particular process. I've known people who have spent hundreds of dollars on tools when a ten dollar saw and miter box is what they really needed. You could look through a dozen books and never find the best multi-purpose glue for a project, but a good group will not only tell you the best glue to use, they usually will tell you where it's on sale!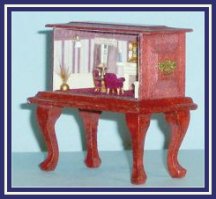 The other other thing I would suggest would be to always enjoy what you are doing, whether you make, sell, or collect miniatures.
What do you love most about miniatures?
Making my dreams come true, over and over again! I can imagine a place, a house, a feeling and express it through my work. I've built houses that I would never, ever be able to live in. I can decorate rooms with a whimsy I could never do in life. How great is that?
Do you have any formal training?
I haven't had any formal training. I have just applied what I have learned in life to my miniature work. Only a lot smaller!
What is your most valuable tool or what tool could you not live without?
Right now it is my X-acto knife. I use it in some way for every project. I cut most of my wood with one, since it is the only way I can keep my cuts accurate and as precise as possible. I use it for wallpaper, floors, carving, detailing, and trimming. Yes, definitely my knife.
What's the biggest difficulty involved with working in miniature?
At this small of a scale it is extremely difficult to make interior details. Even something as simple as a bookshelf can be a daunting experience. Furniture is also a problem, particularly chairs since I have to make most of them. It's very hard to find furnishings that are truly 1:144 scale.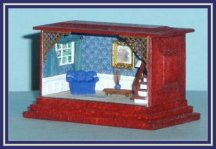 What's next for you and your creations?
I plan to continue creating my little houses and shops, but I want to try different finishing techniques. The obstacle will always be the small scale that I work in. Perhaps that's what I find so exciting about it overall. I would love to try creating a house inspired by Frank Lloyd Wright's work.
What's your favorite miniatures and why?
I'll always love dollhouses. There's just something about them that draws me.
What do you collect?
My curio has miniatures, carousel horses and Pug dog sculptures. I'm a Pug owner and fanatic. Someone is always getting me something for my Pug collection.
What's your favorite guilty pleasure?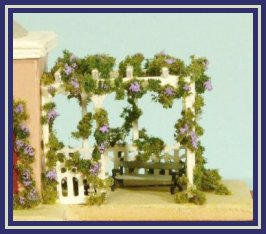 Dark Chocolate in any form!

What's in your CD player right now?
A home-made CD with Eric Clapton, Nickelback, Whitney Houston, and Elton John.

Where is your fantasy vacation?
I've always wanted to see the pyramids of Giza. Isn't one of them a "mini"?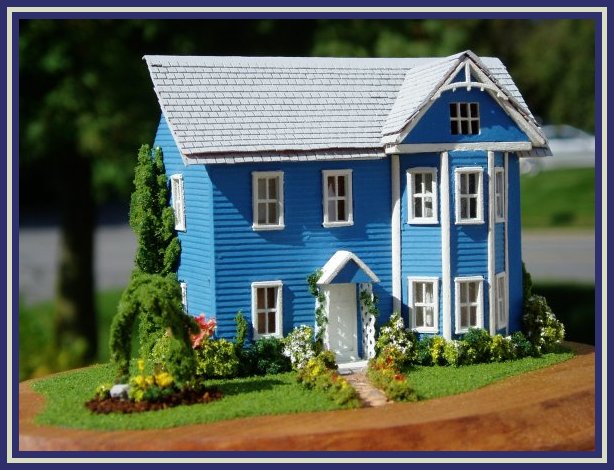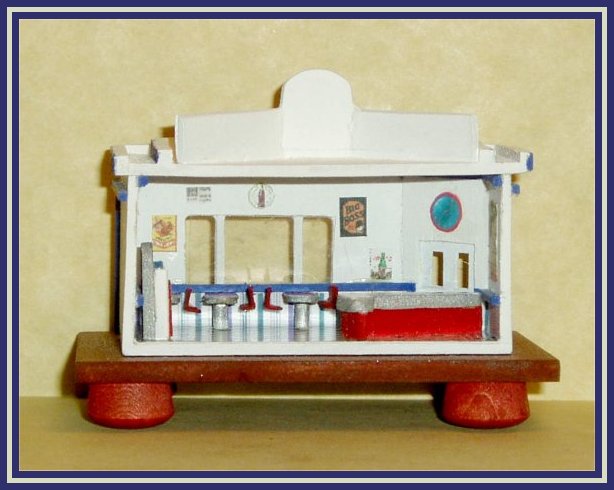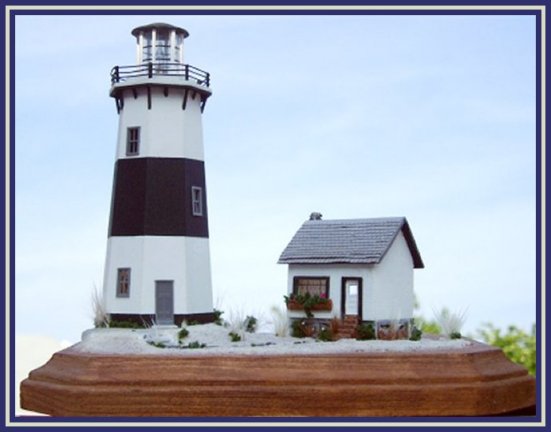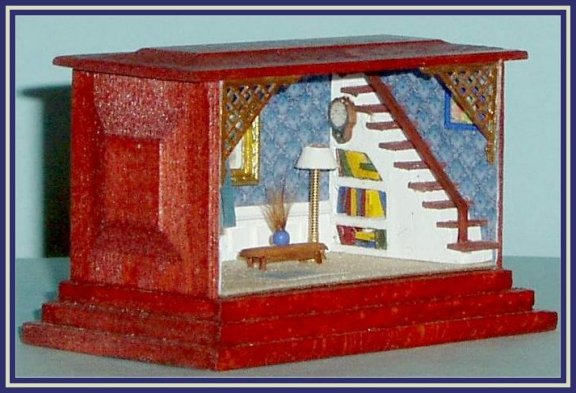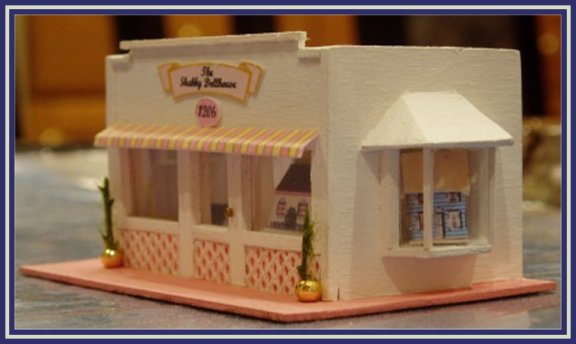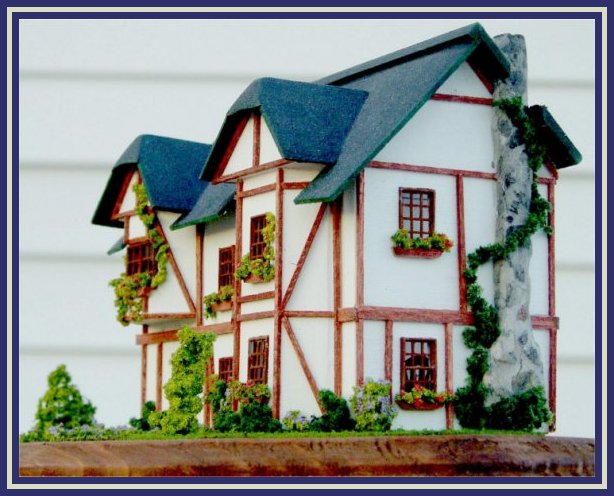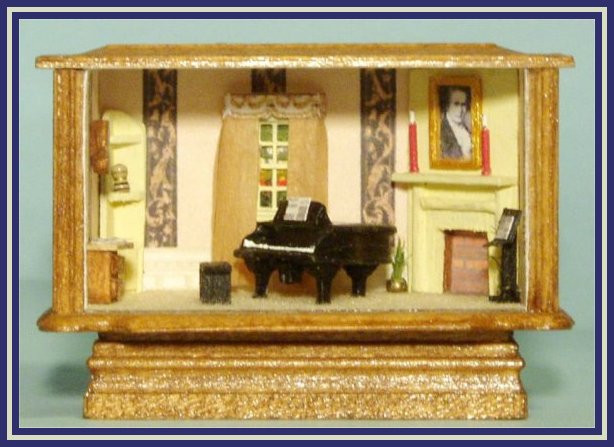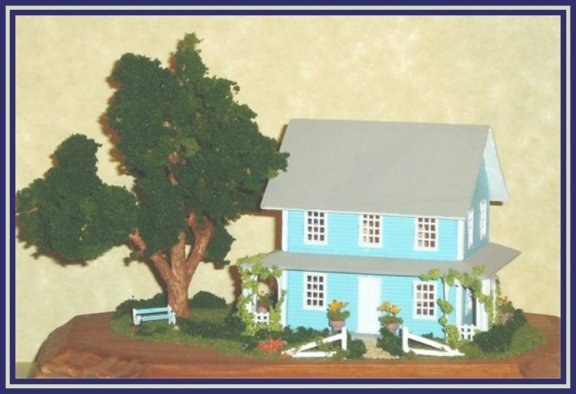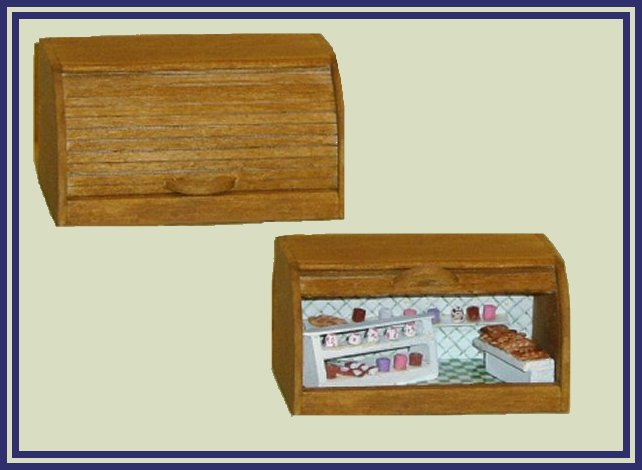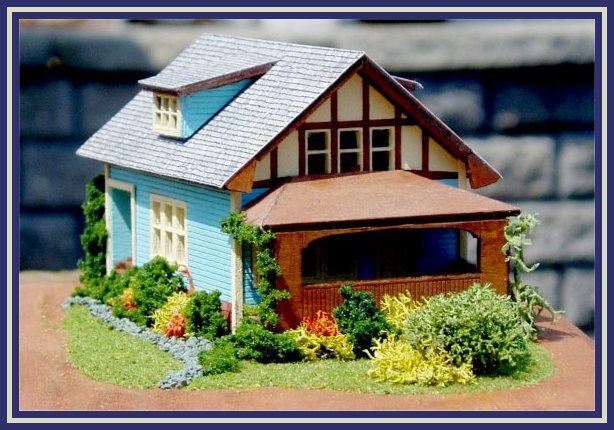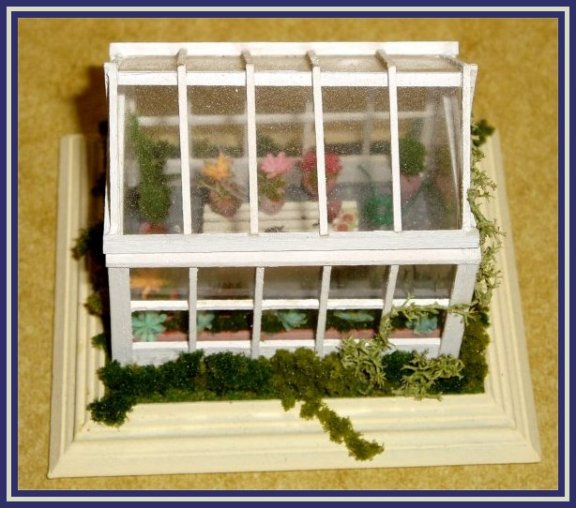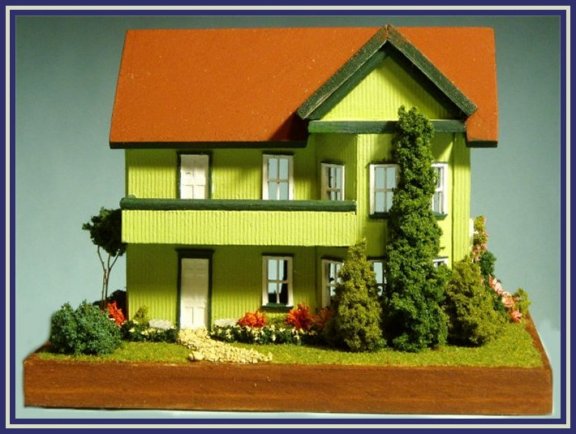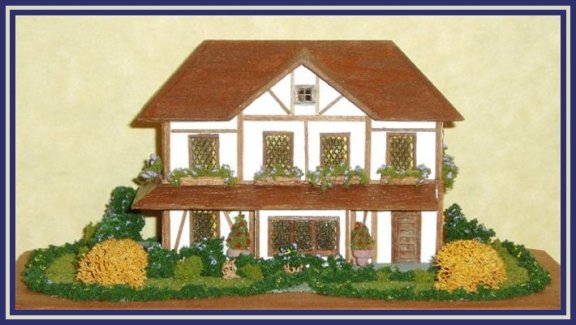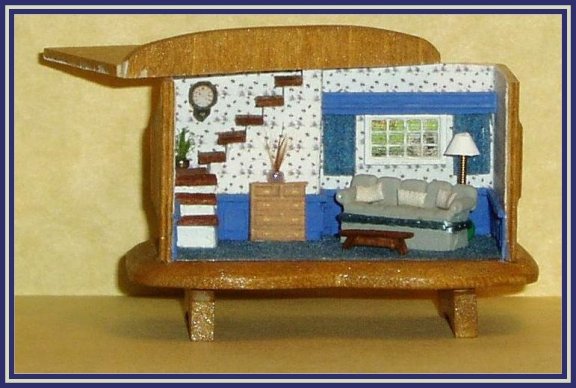 Visit Lauretta's CDHM Gallery