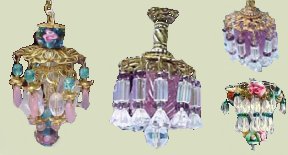 Artist:

Gloria Lund






Where do you live?
We live in the quiet seclusion of a pine forest, on a beautiful lake, in North Central Minnesota. Surrounded by awesome nature, wonderful birds and animals, including eagles, deer, and an occasional flock of swans, visits from bears, wolf, and a cougar!
Tell us something about yourself?
Chandeliers have been used since medieval times, principally in churches and other large buildings where they would take the form of two pieces of wood, nailed together in the form of a cross.

The candles would be set in cups or impaled on prickets at the extremities of the cross and the whole suspended from the ceiling.



I'm probably the oldest old bat at CDHM! My hubby and I celebrated our 50th Wedding Anniversary in October 2007!
What do you make?
Dollhouse Chandeliers, hanging lights and ceiling fixtures. Also unique candle sconces and mirrors. I also maintain a mini art gallery in my eBay Fun Stuff Store which includes hand made Brass framed art prints, Do It Yourself art print sets, posters and photos, which I have collected throughout the years and print myself. I do not sell any miniature that is "store bought".
What scale do you enjoy working in?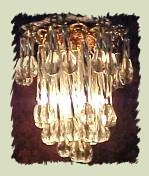 1:12 Scale. I have made some half scale (1:24) chandeliers and art sets. Some of the 1:12 scale hanging light fixtures are small enough to be used as half scale chandeliers though.
When did you first become interested in miniatures?
My Grandpa made me a doll house in the 1940's for my 6th birthday and I've been hooked ever since!! (Many Thanks Gramps)!!
Where do you make your miniatures?
I do have a "studio" space in my home. But, I mostly drag my supplies down to the coffee table in front of the TV, or out to the picnic table in the summer, when the designing is finished to my satisfaction. I usually construct the chandeliers there in comfort!

Where do you find inspiration?
Practically everywhere. I do a lot of research on the net and in the library when in town. I also love the ideas my "custom made" customers give me. It's really fun to design chandeliers when people send me samples of their wallpaper and photos of their projects.

During the 16th century, dressed fixtures with rock crystal or quartz of irregular shapes started appearing in the great halls.

By the 17th century, Baroque artisans had become expert at cutting rock crystal for chandeliers and designs flourish.



Where do you sell your products?
CDHM in the gallery, eBay, and local shops
What is the price range for your products?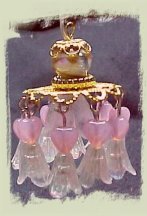 It's a wide range. Some of the DIY art print, photos and poster sets start at $4.00 USD. The largest and most elaborate crystal chandeliers go for $200 USD plus.
Do you belong to any groups or clubs?
Just CDHM online and no local miniature groups. Live too far away from largely populated areas.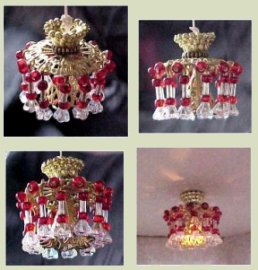 Have you ever been published?
Only my poetry.
Do you collect anything outside of miniatures?
Antiques! Lots of them! Another passion!
Do you have any formal training in your miniature field?
Art was my major in college - studied everything from painting, sculpting, architecture, decorative arts to art history.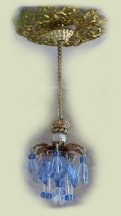 What is your most valuable tool?
My eyesight - it's getting worse. Jeweler's pliers help too!
What's the hardest area of your work to create?
I've got mega creations in my head - the problem is figuring out how to make them as I "see" them! Once I decide what might work for a particular part, usually it's almost impossible to find a supplier that carries anything like the item I want.

What are your goals for your art?
My goal is to always to do the best possible job I can do, for my own satisfaction and my customers delight.
What's your favorite holiday and season and why?
Summer! - Why? Great fishing! (Not limited to a hole in the ice), and skinny dipping! (Oh yah, if anyone comes around, I'd scare them off), exploring the woods, gathering mushrooms, wild berries, ginseng and flowers etc. Yes, I do love the sounds, smells and freedom of summertime!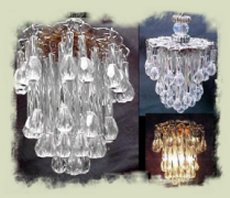 Favorite guilty pleasure?
Chocolate! Lots of it!! (Also, Reading the "Harry Potter" series for the 3rd time)!
What languages do you speak?
English. Studied French for years - a failure. Can swear some in German. (Grandpa's fault)!
What countries have you visited? Is there one you would like to visit and why?
I've visited our beautiful neighbor, Canada, many times. I won't fly anymore, so that's about it. I have road tripped into almost every US state during my life, it's the Best way to go and really get to see the country, its museums, parks, and its diverse and wonderful people. However, I have been to the Louvre, and practically every renowned Museum, Castle, Cathedral, and beautiful building I can think of, by this wonderful invention, the internet.

The 18th century designers were creating elaborate chandeliers with elaborate crystals and fancy pendant shapes that were showing up in the homes of the wealthy.

In modern times, the chandelier plays a important feature in a home with modern ideas intertwined with the history of geometric art.



What your favorite saying?
"All people are equal in the eyes of God".
What's in your CD player right now?
All time jazz favorites.
What gets you out of bed in the morning?
The smell of bacon and coffee. I'm a lucky woman, my hubby likes to cook!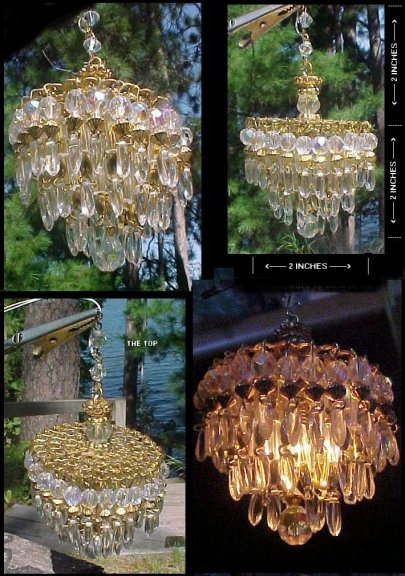 Visit Gloria's CDHM Gallery