Debie Bouey, or "Aunt D", as my teenage son refers to me - "my Aunt D, the 'artist'" - when he writes product and web copy for my scale miniatures.
In the heartland of the USA, just south of Lake Erie and its frigid "lake effect" winter snow storms! We live alongside, and intermingled with a wonderful Amish community and other neighbors.
The joy [and sometimes hilarity] of "instant parenthood" for a formerly childless couple! A terrible tragedy in mid-2001 bequeathed two wonderful children to us. We became instant parents to a loveable, mischievous 9 year old boy, now a high schooler, and a precocious 14 year old girl, now an over-achiever in her first year of medical school.
Anything I can find a way to turn and replicate in precise scale miniature on one of my wood lathes! Bowls, Vases, Boxes, Mortars and Pestles and on and on! I have been experimenting with eccentric turnings in miniature. My personal favorite is turning tiny, ethereal miniature finial lids for my boxes.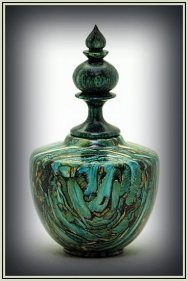 1:12, but I also love the challenge of 1:24 and especially 1:48 scales. I am especially enamoured of seeing just how tiny I can turn a bowl, box, plate or vase and still maintain precise, fine detail in scale.
What's your most memorable experience with a satisfied Buyer?
Like most miniaturists, I have always used a sizing coin in my photos, usually an American Dime. I received a private commission order for a precise replica of a 1:12 scale Alabaster Mortar and Pestle set. The customer had ordered based on a series of 4 photos, all of which showed the size of the original M&P set against a US Dime, coupled with actual dimensions of both pieces highlighted in a bold caption.

After receiving the set, she very politely and diplomatically commented how it was much smaller than she expected. Her husband is a pharmacist who collects full size Mortar and Pestle sets. She somehow managed to overlook the sizing coin and the embolden listed dimensions of the original set. After some pleasant discussion, she ordered a full size Mortar and Pestle set for her husband's display collection.

When she told him about her size misconception and prior to returning it to me, showed him the 1:12 scale set, he loved it! Two weeks later, I received photos of his Mortar and Pestle collection along with a deposit and quote request to replicate his entire collection in scale miniature!
When did you first become interested in miniatures?
Though I've been turning for over 30 years, I only started turning scale miniatures back in 1992. I sort of backed into the tiny turnings, almost by accident. For a period of time in 1992, I was unable to turn my large, "full size" artistic hollow forms, but was permitted to turn "small stuff". A friend was visiting me in my studio one day and commented that if I'd turn my little vases and boxes to precise 1:12, she and her other club members would love to buy them.

I really knew little or nothing about the popularity of doll houses, room boxes or the scale miniatures which fill them. She gave me some reference material and the rest is delightful history. I've been turning scale miniatures ever since! I still do some larger artistic hollow form turnings, but the majority of my business is in scale miniature sizes.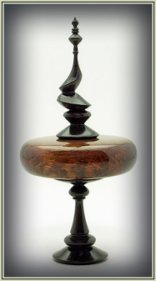 Where do you make your miniatures?
Fortunately, I have a large studio where my stable of wood turning lathes and related supplies are set up. I do have a small lathe mounted on an "all-in-one" portable cabinet for teaching purposes, I just don't have to use it full time. I could, if necessity dictated, however. That is the beauty of working in miniature! Miniature work doesn't require a large work area.
Where do you find inspiration?
In everything around me! There SO many forms in nature all around us. I also study photos of ancient, classical pottery and ceramics, especially the Oriental pieces from the Ming Dynasty. Southwestern pottery art is another wonderful source for classic forms as well. I love the classic forms and often replicate those ancient forms in scale miniature turnings.
Where do you sell your products?
My CDHM Gallery, also from my web site, www.theartofturnedminiatures.com and I offer a few miniature turnings regularly on eBay, nickname gallerybminiatures.

I also have a private commission customer base, coupled with gallery contracts.
What is the price range for your products?
Prices range from $15 to as much as $850 for something like an intricate 1:12 or 1:24 scale Acorn or Egg Bowl set.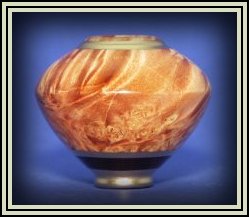 Do you belong to any groups or clubs?
CDHM and my regional AAW turning club.
Have you ever been published?
Yes, American Woodworker, AAW and several turning related articles in woodworking magazines over the years. Featured in the galleries of several turning specific books and a nice two page feature in our local community newspaper.
Do you run workshops?
I thoroughly enjoy teaching young people (age 9 up) to turn. I rarely travel anymore to demonstrate and teach at turning symposiums these days, though I do every now and then.
Do you collect anything outside of miniatures?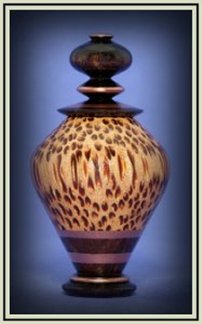 Exotic wood and antique woodworking tools.
Do you have any formal training in your miniature field?
No, I am self-taught.
What is your most valuable tool?
My primary wood lathe. Without it, I can't produce
my miniature turnings!
What's the hardest area of your work to create?
Getting those ultra-tiny finials at the very top of my miniature box lids without breaking them at some point during the turning, sanding/polishing and applying top coat finish processes!
What are your goals for your art?
I am experimenting more and more with scale miniature eccentric turnings. I'm also replicating more "full size" carving, texturing and inlays in scale miniature turnings. It is SO difficult to find tooling to do the job. I am able to grind my own micro turning tools, however, that's not always sufficient for my carving, texturing and inlay needs. I love the challenge of finding a way to get it done, though!

The never-ending reach for perfection, both in form and finish. Most of all, I want to keep finding ways to replicate the fine detail seen in "full size" turned wood art in precise miniature scales.
What's your favorite holiday and season and why?
Spring - it's when everything comes to life, multiple shades of luscious, velvety green after a hard winter! There is always new life in Spring.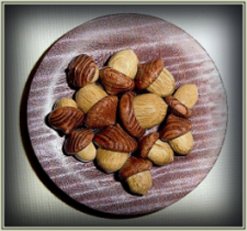 Favorite guilty pleasure?
A BIG box of Godiva chocolates!
What languages do you speak?
English, of course, and Russian, though I probably
write it better than I could speak it now that I have
no one to converse in Russian with - I've lost my
proper accent "edge", methinks. French, too,
although I've never been nearly as proficient as with Russian.
What countries have you visited? Is there one you would like to visit and why?
Grand Cayman, Cayman Brac, Little Cayman, Aruba, Bonnaire, Turks and Caicos, Barbados, Bermuda, France, Great Britain, Ireland, Switzerland, Austria, Germany, Poland and Russia.

I'd love to be able to spend 2-3 weeks in Australia. We have dear friends there and it'd be great to spend time with them and to explore the diverse beauty "down under"!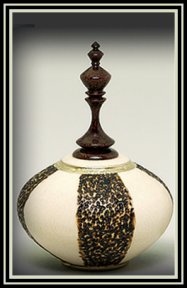 What your favorite saying?