I have thousands of photos of work I have created. I saved photos from every doll and sculpture I ever made. Older pieces are on CD's that are labeled and carefully tucked away safe. Some even older photos are prints from my 35mm camera that I had to scan into the computer when I first started selling online. Impressive right?
No! Not when I didn't think ahead to the future. Or when I was more concerned about saving space on the computer, or when flash drives were $80 for a couple of MB's. Those photos are not so impressive when I am asked for photo's to submit to a magazine and they need to be at least 1 MB and 300 dpi. And I look through all my photo's and realize they have all been reduced for easy web viewing and then saved.
Yikes!!

Then I call my sister who is a professional photographer, with hope (or pleading) in my voice I ask, "What can be done?", "How can I enlarge these?" She says, "Nothing, no, they cannot be enlarged." She is very sorry and asks me why I didn't save the originals. I don't know. But I am crushed. How could I have not been more prepared? I watched all Keanu Reeves Sci-Fi movies. I should have known!!!
That is the day I carted my behind to the store and purchased another flash drive. AND a nice, but not so small case (don't want to lose it in my organized mess of a studio) to store it in, along with the other flash drives I will have when that one is full. In fact, after my 4GB - 4 gigabytes!!! Wow!! - flash drive purchase, I saw an 8GB one on sale at Best Buy in the Sunday flyer.
8GB!!!!!!!!! Gees! And it's almost the same size as the calcium pill I take. All that room in such a tiny, tiny space. It's like something out of Alice's Wonderland. Amazing!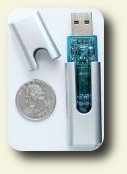 If you really want to see something amazing, type "Flash Drives" into Google Images. They are not only functional, they are a fashion statement too.
But, I guess it was a good lesson learned. Nothing to do but move forward, a bit smarter. Now, I photograph my work, save a copy of the large original photo files onto my flash drive...FIRST!! Then, I open my photo's in Adobe and get them all ready for easy web viewing, saving them again as a small file on my computer.
And for those of you who have older computers without 52 USB ports, 45 SD slots and laser light scribing CD burning movie making drives: They have USB hubs and SD card converters and maybe…next week…they will have 16GB flash drives for the price of this week's 8GB drive. (I want one of those!)
Really they allow us no reason not to save our original digital photos anymore. And you never know when you are going to need them.