Making Things Simple
Starting Out In Mini DIY
Written By CDHM Member
Holly aka havanaholly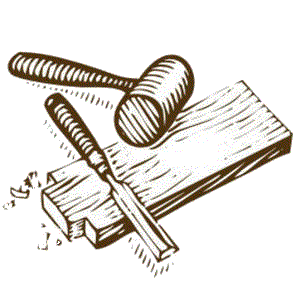 I returned to dollhouse miniatures in my 50's, building a dollhouse kit for a granddaughter. It takes very little time at all to discover that this can become quite expensive, and as I was beginning to suspect that I was becoming "hooked" (daydreaming about building, furnishing and populating my OWN dollhouse). That's when I realized I needed help.
Fortunately about that time my husband found one of Patricia King's books, (I now have four of them) and it led me "out of the box" and into creative hoarding. The first ornately Victorian bathroom I made for that first house used packaging scraps and broken bits of cufflinks, jewelry, beads, vinyl self-sticking --

shelf-covering in a wood-grain, an old roll-on deodorant bottle and a single-serving syrup packet. (Try saying that three times fast!) My grandchild's reaction was as satisfactory as a grandma's heart could wish.
From there, I went on to refinishing cheap dollar store furniture (thanks, Andrea Barham, for getting me started there) to kits for furniture. Then I experimented with my husband's old wide polyester neckties and found that they provide enough fabric to upholster a Victorian parlor suite. Then I discovered that ornate embroidered ribbon, if wide enough, would cover a 'House of Miniatures' side-chair seat, and if all else failed, mini embroidery or bargello worked a charm. This was about the time I discovered that no one made basswood furniture kits in the US any longer.

I had begun to subscribe to a few miniature magazines and began trying their projects. My first such effort was a mini "working" futon. I had no supplies of basswood nor, back then, the tools to work with it. What I did have was a Dremel rotary tool. I was still learning about the Dremel and used a package of craft sticks and a bottle of all-purpose glue to experiment. A trip to the hardware store taught me there were 4mm hardware bits, and my first futon that I made provided a very nice loveseat/wide single bed.
Since then I have acquired a few more tools and I've learned where to purchase basswood. I've also taught myself to make a few other dollhouse items with the help of some of the books out there. Above all I have acquired unending awe and admiration for the lovely work created by all of our CDHM artisans!
Holly aka havanaholly
CDHM Forum Member
Copyright © 2004-2009
Custom Dolls, Houses & Miniatures / CDHM