Getting Into Miniatures!
Written By CDHM Artisan
Lidi Stroud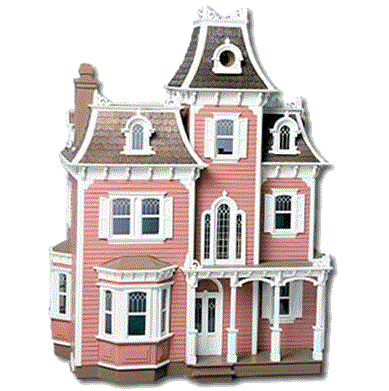 We found some new club members recently, Peter and Miriam by name. They live in an even smaller Australian town than we do, about 150kms away.

It all started when they phoned up to talk about building "another" dolls house - where could they get plans and ideas? What tools best to purchase? It's funny how simple questions like that can lead to so much!
At the time, we were about due for a club meeting so I suggested that they join us and have a chat with the various members about the different houses they had made and even go visit a few to see for themselves. Let me say that the weekend turned into a miniature marathon.
Peter and Miriam duly arrived in their camper on Friday at about mid-day for a preliminary chat about things miniature before the upcoming meeting.

At the actual meeting on Saturday, club members were completing a picnic hamper they had started the previous month. Peter and Miriam decided that they would like to make one too - so we started them off - and they did really well. They planned to go on down the coast on Sunday morning to visit some relatives/friends. Hah!! So much for that plan!
On Monday they were still here pouring over magazines and books and discussing the pros and cons of different tools!

They eventually left at lunch time on Monday to go back home and got 45kms down the road, where they stopped at the local council dump and bought some old timber Venetian blinds to scavenge the slats for the making of miniatures, and then to a tool shop where they purchased a motor tool and other various sundry items - also for the making of miniatures!
I think they finally got home with their stash on Tuesday and have been immersed in miniatures ever since.
Isn't dolls house miniatures an addictive hobby? So let's share the fun!
Copyright © 2004-2009
Custom Dolls, Houses & Miniatures / CDHM