From Drab to Divine
Written By CDHM Artisan
Janine Crocker
of Miss Amelia's Miniatures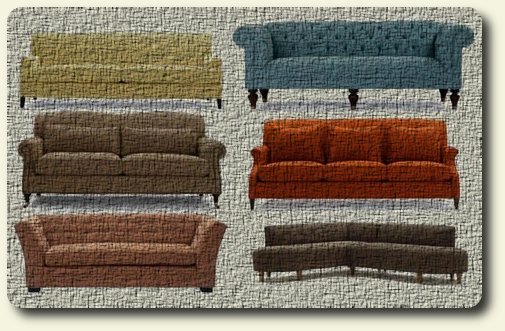 The walls are decorated, the flooring is completed, the curtains look stunning…now where on earth are you going to find that sofa in just the right shade of…er, seafoam???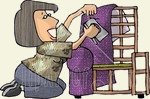 The perfect chair…just the shape you were looking for! It would fit beautifully into the corner of the country kitchen room box…except that it's covered in RED VELVET!
The picture of your ideal 12th scale bed is there in your mind as clear as crystal…but you've trawled the Internet and the catalogues and nothing comes close!
If any of the above sounds familiar then maybe it's time you thought about customising a piece of furniture to get exactly the effect you want. Whether you do it yourself or get someone else to do it for you 'bashing' or 'customising' a ready made item will give you a result that is unique and exactly what you have been looking for.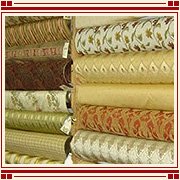 Take, for example, a standard 12th scale chair in the lower price range from a local dollhouse shop. Made of wood, the shape will be fairly simple and attractive but the wood will often be stained and varnished in a very red shiny mahogany and the fabric used on the seat will be the same as in the other thousands that have been produced. Re-painted and upholstered in an attractive fabric that blends with your colour scheme it becomes a miniature work of art and unique to your collection.
Of course if you're going to do this yourself then it's best to start with a lower priced item, (no one wants to start practising on their treasured Bespaq sofa, heaven forbid!) but once you get the hang of it there will be no stopping you. Sofas, beds, tables, chairs can all be totally transformed with a little patience and a lot of imagination. Bargains discovered in auctions and yard sales can given a new lease of life without costing a fortune.
Below are a few suggestions that may help:
Prepare the surface of the wood before painting. Remove existing upholstery then rub down well and apply paint or wood stain thinly. Wait until the surface has completely dried before applying stencils or transfers.
Take care when removing the existing upholstery. Try to keep the manufactured piece of padding all in one piece and only remove the fabric.
Use the old fabric as your pattern and watch out for any stripes or floral repeats on the new fabric.
When choosing the new fabrics try to look for fine, natural fabrics that are easier to glue and shape to the pattern such as cottons and silks.
Pay attention to scale when choosing fabrics and trims. Many custom pieces are spoiled by trims that would be enormous in real life.
Have fun choosing unusual bits and pieces to add to your furniture. Beads, flowers, lace, tassels, even feathers can give a totally original effect.
If you decide that this all sounds like too much hard work then pass your suggestions and ideas on to a miniature artisan who will customise your furniture for you. Do make sure that you are dealing with someone with some experience, especially if the piece to be reformed is a precious or expensive item. Within CDHM there are many talented people who specialise in this type of work and will happily offer advice and suggestions for your project.
Copyright © 2004-2009
Custom Dolls, Houses & Miniatures / CDHM