World of Imagination
By Alice Bell
CDHM Asst Editor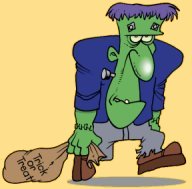 Welcome to the World of Imagination. Through the dark, curliqued, mysterious iron gates guarding this realm anything is possible. Witches cackle, fairies twinkle in the multicolored heavens and unicorns peer from forest glades while dragons breathe fire across shifting desert sands.
There is more imagination 'twixt Heaven and Earth than has ever been dreamt of before, my friends. And this time of year, the creations just keep coming.
"I've always had a thing for anything Fantasy. The make-believe world is one of my favorite places to wander. I love the magic and ethereal sense that I get when I think of the fantasy world," said Vania Cruz-Perez.
"When I'm creating an art doll character I imagine what would it be like to see them in this imaginary world. The feeling is just too grand to express," she added.
"I love fantasy because it has no limits. Anything my mind can conceive is possible in the fantasy realms - my imagination and Muse have free rein here! I can create whole worlds and fill them with creatures no eye has ever seen," said Erin Metcalf of Eirewolf Creations.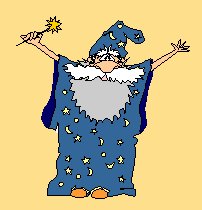 "Fairy is more than pink butterfly wings and Spooky is more than Halloween decorations," added Cauldron Craft Miniatures' creator Grimdeva (Jana Rowntree).
"Myth, mages, magic, night time forests, and fantastical creatures have always fascinated me. People have described my work as 'occult,' which actually means 'secret' - and I love secrets and the expectation of hidden treasures!"
And when it's October, myriad secrets, hidden treasures and fascinating beings are the reality du jour. Creative inspiration is as close as the neighbor's decorations - or maybe just their shrubbery.
"In all honesty I get inspiration from anything I see. I could be looking at a pair of curtains at a department store and suddenly I see a doll dressed in a similar shade. Or when I go to pick up my son from school and a tree or bush is in my view and there comes inspiration," said Vania.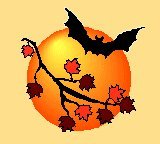 "I also like to listen to different types of music which get me in the mood to create. I really like anything that has to do with classical music or European folklore; it makes me see enchantment all around me. I frequently get inspired by movies as well: fantasy or historical. The possibilities are endless when the imagination has such a large spectrum," she added.
"Most of my inspiration for fantasy creatures comes from real ones! I am often struck by a certain feature in an animal, such as the graceful curve of its spine, large eyes, distinctive markings or coloration. Then I expand on that feature in my sculpture. I always try to give my creatures believable anatomy. I want to help people believe that these creatures could really exist. The greatest compliment I've ever received is from a young girl who saw one of my Dragon Snail sculptures and said, wide-eyed, 'Is it real?!!'" said Erin.
And, like all those things 'twixt Heaven and Earth, reality in the Imagination Realm is a very broad concept.
"I love to stock my magical cubbies with mushrooms, tiny nests of robin's eggs, various lizards and owls and other little whatnots. I try to make everything unique. For instance, brooms have a skeletal leg bone stick or end in a petrified troll hand. Even if I duplicate an object, like make another broom, I try to avoid making an exact copy even if it's just to change the color. Usually, my more elaborate pieces can't be duplicated because they are made with found objects like a seed pod," said Grimdeva.
And as is often the case in reality, it's hard for the magic-makers not to play favorites with their creations.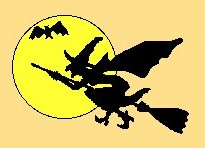 "To be honest I have several sculpts that are dear to my heart. But I know that there's always one that stands out; to me this sculpt is Zinerva 'The Witch of Time'. I just love everything about this art doll: her coloring, pose, expression. I think it will be hard for me to top her," said Vania.
"Mine has to be 'Mightier Than the Sword'. He's an entirely new species, a Hlarim, the first of his kind. His race has a fascinating culture that I am still discovering. He strides with great purpose and determination. And I love his potbelly!" added Erin.
Grimdeva's favorite thing is to help others create special settings for such beings as witches and Hlarims to explore.
"There are a quiet number of hardcore fantasy collectors out there who know exactly what they want for their haunted mansions and castles. Then there are newcomers who don't know where to start but find the idea of 'spooky' or 'wizard's magic' intriguing. The easiest is to add a few magical details to an existing collection or as a seasonal display like an eye catching magical cabinet, desk or trunk filled with mystical goodies to set the mood" said Grimdeva.
"Throw around a few baskets full of spotted mushrooms, some spell books, a cat or two and viola! From there, you can add layers of black silk or mesh across furniture and hanging from drapes or even stretch a bit of faux cotton webbing about. A few high quality artisan pieces will distinguish your collection rather than covering your house in plastic bright orange bits," she continued.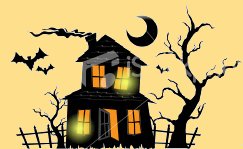 "Consider other color schemes besides the stereotypical orange and black. How about silver and sage or red and gold? All of this can then be neatly packed away when the dark holiday is over. And if you are interested in trying a more permanent spooky or fantasy collection but aren't up to a whole dollhouse, consider doing a roombox first using something creative like a faux pumpkin, a cigar box bound to look like a spell book, a large oatmeal container as a castle tower or a cave scene with papier mache and Styrofoam," she listed.
"An easy addition that can really give an eerie ambiance to any scene are the various lamps and lighting kits from the Lemax Spooky Town series, available every year at this time at Michael's Arts and Crafts. Piles of skulls with glowing eyes, street lamps shaped like witches' hats, or the basic purple or strobe light kits run about $8 to $12. I usually steer clear of mass produced items in my own collection but Lemax has nice basic lighting sets that don't require copper tape and boxes. You just pop the battery in the little power box and hide it behind the couch," Grimdeva added.
"If you are ready to take the plunge into a fully haunted miniature mansion or castle, pick a genre first. Do you want a quirky, brightly colored holiday house, an abandoned home with tattered curtains, peeling paint and shutters askew, or an elegant gothic mansion with iron gates and ornate interiors? Don't spend oodles of money on architectural add-ons. Instead, try jewelry findings to dress up windowsills and doorways, build mantles and pedestals with cardboard, balsa wood, and stucco, and I turn action figure bits into sculptures and friezes. Look in wedding supplies for miniature gates, gazebos, and columns and you can find interesting gothic papers for walls and books in scrapbook stores along with precut board frames that make interesting architectural niches.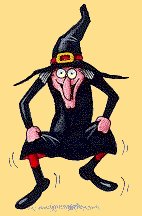 "Check beading supplies for bits that can be turned into chunky hinges and locks on furniture and beads that can become potion bottles," she instructed.
And once this magical space has been created and Halloween is here, who will lead the way?
"I think the ones that would have a smashing time during Halloween would be my Witches. They are all so appropriate for that particular holiday! I think all of my doll characters would have tons of fun, but I think the Witches will have a superb time since I would imagine they would be the ones to lead the way," said Vania.
"I think most of my creatures would be pretty oblivious to Halloween, actually. They see things that are strange to us on a daily basis, so they'd probably take it right in stride!" said Erin.
Welcome to the World of Imagination. Take a look around and see what you can find in the CDHM Haunted and Spooky and Fantasy Galleries.
Visit the Haunted and Spooky Galleries or the Fantasy and Mythical Galleriesnow!