Building Your
Dream House Is Affordable
By Alice Bell
CDHM Assistant Editor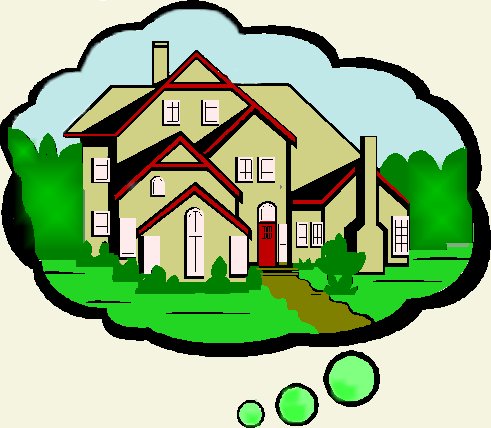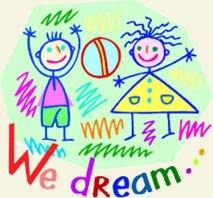 Just think small.
The idea of tiny scale has been around for centuries in religious objects, as a wealthy person's curio cabinet or a teaching aid for a child. The earliest known example of a miniature model dates from the third millennia BC Ukraine. It shows a circular hut with two women, one grinding corn on the porch and the other sitting beside a stove inside the hut.
An unusual historic miniature representation is the casket interior of a wealthy Roman woman in 2 AD that was carved in high relief depicting a model room including the lady herself reclining on a chaise. Or maybe not so unusual considering funerary goods throughout the ages included miniature representations of everyday items.
It wasn't until 1558 when a Bavarian Duke had the first true dollhouse - with elaborately crafted interior and exterior including stables and an orchard in the lower portions - created for his daughter.
By the 17th century Holland's elite class sought to have the most elaborate Dutch cabinet gracing their parlour. This piece of often elaborately decorated furniture had locking cabinet doors hiding multiple shelves filled with collectible miniature furniture, accessories and foods created by the finest craftsmen.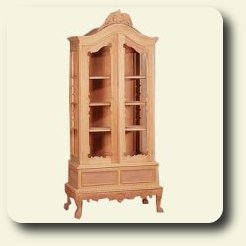 From this fad came baby houses in 18th century England, once again with exterior and interior details on a miniature house instead of a mundane cabinet. The hobby naturally spread to America and by the 19th century lithographed houses by Gottschalk, Bliss and Schoenhut were on toy store shelves. By the 20th century the hobby became affordable to the masses in general – not simply to the wealthy or the poor but determined crafter - with lithographed cardboard, pressboard and eventually, metal.
After the metal shortages of WWII ended, tin houses with plastic furniture by the likes of T. Cohn, Marx, Playsteel, Meritoy and Jayline started filling shelves. And as supplies grew more plentiful, the creativity of individual crafters was unleashed.
Famous houses were created by dedicated miniaturists both for themselves and famous recipients. In England, Queen Mary's dedicated subjects gifted her with a magnificent mansion in 1924. British artist Sir Nevile Wilkinson created Titania's Palace based upon his daughter Gwendolyn's claim of seeing a fairy in their garden and lamenting that they had to live in holes in the ground instead of a grand house. Twenty years later Queen Titania had a grand 18-room palace resplendent with 3,000 works of miniature art to call home with her subjects.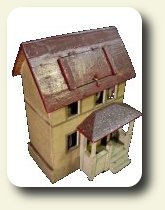 In 1928 America, silent screen star Colleen Moore was not to be outdone and with the help of some of Hollywood's most talented craftsmen created the nine-foot square Fairy Castle. The castle features running water and electricity and could be disassembled into two hundred pieces for transport. Unlike Wilkinson's castle, built to house fairies, Moore's castle featured a fairy tale/mythic theme: the Wizard of Oz, Aesop's Fables, King Neptune and Mother Goose all feature prominently.
Earlier, in 1878, President Rutherford B. Haye's darling daughter Fannie became the recipient of an amazing five foot tall Victorian dollhouse from a Methodist Church ladies group.
Beginning in 1916 New York City socialite Carrie Stettheimer created the 17-room Stettheimer House and the well-known artists and literati who visited her filled it with amazing scale works of art, notably Marcel Duchamps' Nude Descending a Staircase and Venus, by Gaston Lachaise. It is a colorful, avant-garde look at the Art Deco period.
By 1976, America feasted its collective eyes on the amazing White House in Miniature when it began its tour of the states and abroad - it is a complete recreation of the president's home that changes as each First Family adds their homey touches.
And they are all the stuff dreams are made of – dreams of those who may or may not be able to afford the full scale version of their dream home but create it in miniature for their own or others' enjoyment.
CDHM offers miniature enthusiasts a chance to bring their own dreams to reality, either using a kit or building from scratch with a little help from the talented artists gathered here.
"I started building dollhouses as a little girl - several years ago! - when a family friend helped me construct a very basic house out of large cardboard boxes. From there, my love of dollhouses and miniatures grew into a full-time hobby," said Angela Auguillard.
And from the cardboard boxes came exquisite wooden versions complete with all the architectural details a real house would possess.
Tracy Topps remembers her own metal dollhouses with fondness.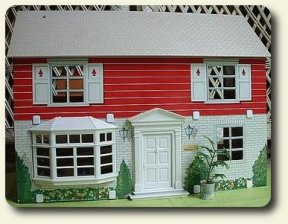 "I actually owned more than one," she said with a laugh.
"My younger brother and I played with the first one so much that the roof, doors and one window broke. My father & mother surprised us one day with a new one because I got good grades at school."
Several years passed before Tracy revisited the mini world. But a pending adoption by her uncle and aunt made her think of an appropriate welcome to the family gift for the new child and she remembered her love of dollhouses.
"Their first choice was a little girl so I decided on a small dollhouse I had seen at a craft store. They ended up with a little boy and I let my Aunt keep the house, but then I started getting requests from friends and co-workers for me to make them one," she said. And a career was born.
For the would-be dream builder Angela and Tracy have some tips to share.
"I've found that one of the most common mistakes in building a dollhouse is in not properly squaring the foundation initially. It's extremely important to do a dry-fit of all the main pieces before you start gluing and make sure that everything fits and is perfectly square, otherwise everything that follows will be off," Angela advises.
"I would say not planning ahead of time for things like lights, or where you want furniture to go. If it is a kit built house, the biggest issue is not following the instructions completely and editing the house. When people do that, they expect things to run smoothly but they do not because you are changing the structure of the house. If a person is patient enough, they find out easily that all problems can be fixed with the help of taking a chocolate break," adds Tracy.
Their favorites to create are as distinct as their talents although the initial structures are cottage style.
"My favorite building to re-create is an old English cottage, with an exterior of either stone or half-timbered stucco. I've always been fascinated by the quaint cottages featured in the paintings of artist Thomas Kinkade, and they have been the inspiration for some of the houses that I've built," said Angela.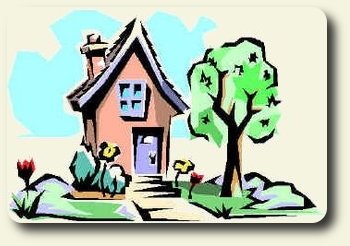 Tracy's love of cottage style is tempered with practicality.
"The Primrose Cottage kit is my favorite to build because it is so small and is quick and easy to edit & customize. My second favorite is the Arthur by Greenleaf because it has a little more space but is still small enough for most people's 'real life" homes,'" she said.
And both warn that the construction of a dream house can be far from dreamy throughout construction.
"Shingles!" states Angela firmly.
"For me, the hardest part of dollhouse building is applying the shingles. It's not difficult to do, but for some reason, that part has always seemed the least enjoyable and the most tedious for me."
"For me, it's making the exact same thing over again. I sometimes will have a customer who wants their house to look exactly like a house I already sold. But even though it may be built from the same kit, I have to change the stone or flowers and trees or add brick when there was none. I just can't make the same thing. I have the same problem when I do swaps in miniature groups,"" said Tracy.
True to the nature of dreams, change is the only constant in their creation. Come to the CDHM Galleries and see if your dream is hiding there.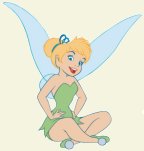 Copyright © 2004-2009
Custom Dolls, Houses & Miniatures / CDHM