Bountiful Harvest
By Alice Bell
Photos courtesy of
CDHM Food Artisans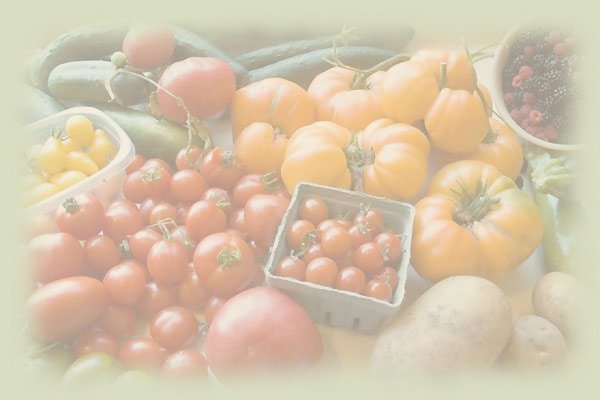 The bounty of a plentiful harvest is truly something to be grateful for, even in this age of mega grocery stores. Food is such an important part of all our cultural experiences, no matter whose culture you celebrate. We share food to celebrate births. We share food to grieve. We share food to be social. And we pull out all the stops for holidays. And since miniaturist's work hard to detail the rest of the world in miniature, how could we fail to create fantastic food?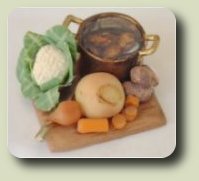 Miniature food fascinates me. Some of my first miniature creations were foods from plain gray air dried and painted clay: fried eggs, pancakes, bacon and the odd carrot or two with bits of air fern attached for the leafy green part all populated my mini tables. No surprise there, I love breakfast and was the kid in the kitchen always trying to sprout the tops of real carrots in a dish of water. I sprouted a few carrots but also grew lots of algae. There was something about those delicate leafy carrot tops that fascinated me and air fern was the closest mini mimic I could find.
Now I lurk in the CDHM Food Board and tutorials and check out the food offerings in the gallery. One of these days I'll get brave enough to try something again, I'm just so blown away by what everyone else is doing that I believe I'm better at supplying the dishes than trying to put something on them.
Mini food sculpts have come a very long way from the early days when ceramic forms were glazed in bland approximate colors to portray foods. In my collection an antique roasted chicken with leg and wing bumps sports a fairly uniform light brown. Later, plastic replaced ceramic but the basic shape/color slickness remained the same. Now, polyclay sculptors have put texture in the glazed and crispy-looking chicken skin on mini roasters with subtle variations of color making it look like a fresh-off-the-roasting spit bird - complete with realistically sculpted wings and drumsticks instead of side lumps.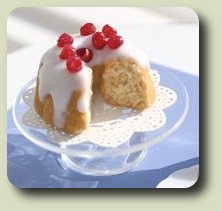 But discovering the tricks and tips behind creating such mini marvels as crispy chicken skin, shiny, juicy apples or the texture of a lighter than air cake takes time and experimentation. It gets even trickier when you add enticing smells.
"I am experimenting with scented mini foods," said Barbara Dezza, MiniB, Italy's miniature kitchen answer to Julia Child. "I have had satisfactory results with a few scents, like Parmegianno Reggiano cheese, chocolates, garlic, tomatoes and truffles. I have had fantastic response to this new line."
It was almost five years ago that Barbara discovered a book on antique dolls houses in an Italian bookstore and became spellbound. A closer look into miniature kitchens revealed miniature food and it was love at first sight.
"There is not so much in the Italian language so I study the pictures and try to understand the technique to reproduce the foods. I love reproducing a wide variety of food, trying to be as faithful to the real thing as possible. I like to recreate old favorite recipes and create new dishes," she said.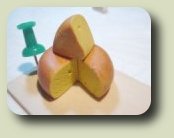 Since the Italian miniatures instructional field was so wide open Barbara decided to try her hand at helping other budding mini foodies. She has created a DVD (with English subtitles) called "To Create in Miniature, Vol. 1: The Meats."
"It has five tutorials and is a dream come true. I am almost done making the second one, on fruits and vegetables, and I am planning a book of mini food tutorials," she said.
Fruits and vegetables also intrigued Debbe Mize, member of the CDHM Food Gallery where countertops and picnic tables spilleth over with her produce bounty.
"Fruits and vegetables are still my all-time favorite things to make," said Debbe, who started in the produce section almost 10 years ago.
Her gallery site is filled with items sold into private collections. One of my favorites, the Canning the Harvest scene, shows an immaculate white table groaning under the weight of freshly picked produce being placed into canning jars.
She didn't stop with the fruits and veggies though, and a tiny black gas grill filled with sizzling burgers and hot dogs looks like you should see smoke rising from the cooking meat. Her next challenge is a trip back in time for festive Medieval fare.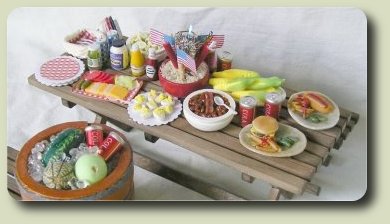 "I'm planning on creating a huge Tudor banquet scene complete with a roast suckling pig with an apple in its mouth. I've been researching every Tudor food resource I can find because I don't want to leave anything out. It will definitely be a challenging scene," she said.
The degree of challenge and the sweetness of success motivate many food artisans. Kerry Alexander has a much sweeter life - and gallery - since she began her mini food hobby/business.
"I was designing and making personalized wedding cake toppers from poly clay when I ventured into a dollhouse shop one day and was completely inspired. Now three years later I've made a fantastic hobby into a dream job," said Kerry.
Her CDHM Gallery is filled with the food of the gods: chocolate. Chocolate fills floor displays, counters and shop front displays in all its molten brown glory.
"I like making sweet things because they are so indulgent. Whenever we think of something to make us feel happy it's normally chocolate or a sweet that comes to mind. Whenever I have a new batch of luxury chocolates I can almost smell the aroma," she said.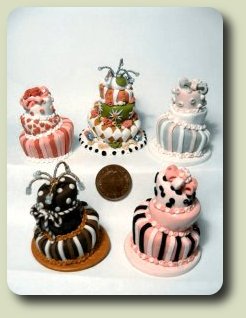 "Making mini food look as real as possible is the most important thing to me. You should be able to look at a miniature piece as closely as you possibly can and still be able to see tons of detail," said Kerry.
One glance at her "wonky cakes" - colorful creations that look like they came straight out of a Dr. Seuss book illustration - makes it clear that including details and getting just the right color are her trademarks. Crazy stripes cover one tier, topped by a solid brightly "iced" layer, topped by a third polka-dotted layer and then crowned by a bright "fondant" bow or spriggly feathery decoration. While these wildly creative confectionery delights are offered to the purchaser's color specifications, Kerry doesn't consider the flight of imagination necessary to their creation to be more difficult than creating "regular" food.
"Any type of food that is natural - like meat or vegetables or fruit - would be more of a challenge for me because I would want to make sure I included every single little realistic detail and coloring," said Kerry.
Attention to realistic details and perfect coloring pretty much sum up a mini food artist's goal. Grab a cart and take a tour down CDHMs grocery aisles, ummm, Food Galleries, and see what would look good on your table!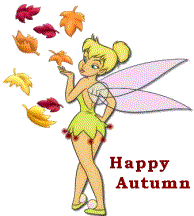 Copyright © 2004-2008
Custom Dolls, Houses & Miniatures / CDHM