Crrrreeeeeeaaaaaaaaak!


Halloween Miniatures
By Alice Bell
Photos courtesy of
CDHM Haunted and Spooky Artisans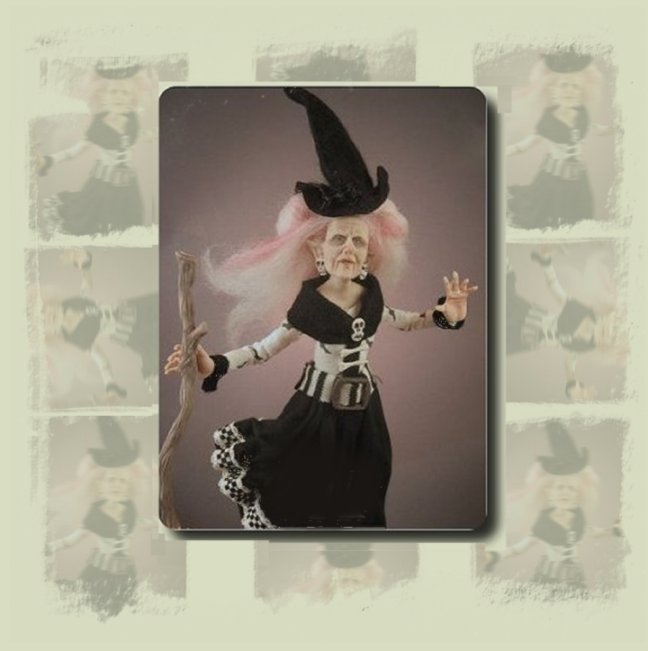 Crrrreeeeeeaaaaaaaaak! Welcome, my pretties, to the haunted --- the spooky --- the fantastical --- the creeeeepy world of Halloween miniatures! What lurks in the shadows?
Ghosts? Witches? Vampires? Trolls?!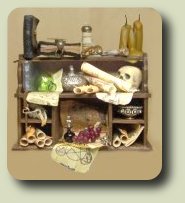 Fear of the dark has caused many a creative mind to spawn renderings of just what shape the Thing in hiding might take. Did that shadow move?! Yes, and if you're not a good little girl the Boogeyman will get you! Husband of horror fan Karin Caspar will attest to it.
Caspar started working with miniatures in 1995. One of her first projects was based on iconic Halloween boogeyman Michael Myers. "Halloween is my favorite movie. I made a room box with Michael Myers looking out the window in his waxen face with a knife in his hand. It was too realistic for my husband!"
Her CDHM gallery features less horrific styles, plenty of choices for the stylish witch or wizard to choose from including a series of podium book stands, bookshelves and stoves – all filled with accessories and details.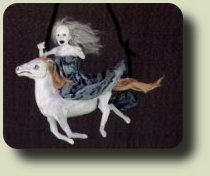 The movies provide miniaturists with all the inspiration we could desire and then some. A personal favorite is the Disney Halloweentown series, which is serving as inspiration for my own pet project: a three story Halloweentown House. Design components of the house currently littering my workbench such as the stained glass floating staircase will be featured in my gallery at a later date. Now, my gallery offers carved and painted furniture along with carved and colorfully glazed pottery inspired by vintage Halloween decorations and modern day witches and wizards. From Glinda the good to Maleficent the apple-ugly (you do remember Disney's evil witch tempting Snow White with that apple, don't you?) and from Merlin to Dumbledore, each personality requires different accessories. I often work with a movie playing in the background and it frequently falls solidly in the fantasy category.
Fantasy movies tend to stimulate mini imaginations in a maxi way – whether it's a real world with one fantastical central element, like the classic vampire, wolfman and mummy movies or a whole other realm like Faery, where trolls really take tolls. From the troll under the bridge come the expressive Trollflings and the Walking/Stalking Mummy. "He is my favorite. He had a partially sculpted face and was posed as if stalking his victim, reaching out to grab someone. When I finished him I actually took a good look at him and was very proud of what I had made. He looked like a mini version of a Hollywood prop – I've seen a lot of horror movies," admitted Amber Matthies, creator of the charming and pudgy Trollflings.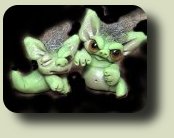 "I started making miniature haunted plants about four years ago, about the same time I started making the Trollflings. I'd made a jack o'lantern then had the idea to turn one into a planter," said Amber Matthies. She expanded her repertoire to include the customized plastic skeletons, a la W/S Mummy that she terms "gruesome, but oddly charming."
Haunted minis tend to be divided into two camps: the charming and spooky vs. the gruesome and gory. The vivid colors of Halloween past, whence comes the charming and spooky, are perfect for miniatures - particularly its heyday period of 1920s through 1960s. Photos from the 1920s through 40s depict elegant, elaborate costumes done in silks, taffetas, tulle and plenty of flash and spangle. Colors ranged from pumpkin orange to acid green – shades that paired well with glossy black on cut-out decorations and postcards that are highly collectible today. The Halloween of this era was all about the spooky fun, and plenty of fortune telling.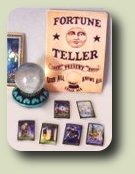 The gallery of Moriah Betterly, MLB Studios, offers several items with a gypsy flair that would have fit right into this theme. A set of tiny tarot cards, an olde world fortune tellers table, a gypsy peddlers cart or a crystal ball would have all enhanced the carefully planned parties of Halloween's golden age. Her own take on the witchy world combined two all time favorites: the ghost and the witch.
"The ghost of Agatha Witch was a lot of fun for me to create. I did a story about her and how her spirit was bound to her crypt. I made a book to go along with it and sold it as a set, her picture is in my gallery on my website," said Moriah. And do we need to say what the Harry Potter phenomenon has done for the fantasy realm?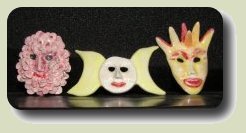 "For some unknown reason I have always been drawn to anything spooky, fantastical so it was a natural process for me to do a fantasy-type house – thus came the Harry Potter-style shop with a potions room above and Harry and Hermione bedrooms in the attic, said Maxine Cramer of The Magical Menagerie. "Time allowing, I'm working on a Tudor style house to be divided into shops you could find in Diagon Alley."
Time allowing, that is, from her production of toothsome plants, musty smelling wine racks and anything capable of holding a potion bottle.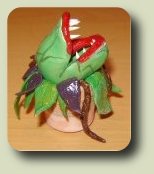 The world of the fantastical appeals to many miniaturists as a world without limits. Witches need brooms, unicorns can be found grazing in the meadow and trolls really do live under the bridge. There are things hiding in the dark and there are wizards ready to smite them when they venture into the light. It's a world where good and evil are well balanced, where good can triumph if it just works hard enough. And has a steady supply of potion ingredients available.
"I wouldn't say that creating spooky/haunted miniatures is any harder than making everyday minis, each presents a challenge of its own. I just find making haunted minis more interesting. I started making haunted minis because I couldn't find items to fill my first haunted shop. There was a distinct lack of furniture and accessories," said Maxine.
Moriah agrees. "I stumbled onto dollhouse miniatures through a friend. She was creating a haunted dollhouse and was having a hard time finding things for it. With very few dollhouse stores in our area she begged me to make some things for her. I was very intimidated by the small scale, but once I made the accessories and cabinet I was hooked!" she said.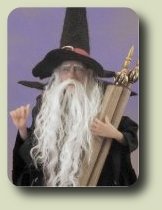 Again, the wide-open world of the fantastic waved a magic wand of possibility. But through the years Halloween changed. Instead of leaving fear to the imagination, creative minds began to leave nothing to speculation and spelled out what was hiding in the dark and exactly how evil it could be. Murderers and serial killers began to show up as The Thing That Lurked in the Shadows.
In the 1940s a particularly gruesome series of instructional minis were created in what may have been the precursor to CSI's The Miniature Killer storyline. A series of 18 miniature crime restoration scene dioramas were created to train detectives in assessing visual evidence – all in amazing 1:12 detailed working parts by Criminal Investigator Frances Glessner Lee. Lee established the Department of Legal Medicine at Harvard in 1936 and her amazing collection is offered in detailed photographs in the book, 'Nutshell Studies of Unexpected Death' by Corinne May Botz.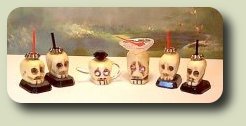 And the haunted field is growing. Want to learn how to build a mini haunted mansion of your very own? Instructions are available on such common sites as Ehow. Greenleaf Dollhouses offers a kit ready for assembly by budding miniaturists while the more experienced builders will merrily kit-bash a regular dollhouse with all materials from stained glass to rocks being fair game.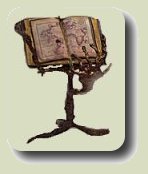 "I love that you can have an idea just pop into your head, or see something in a film or read about it in a book and then try to bring about your interpretation of it. Worm pies, bloody and gory body parts, jars of leeches and maggots – all are an everyday occurrence for me. It's all so much fun to create!" said Maxine.
"I think haunted minis are harder to create than everyday minis because you really have to use your imagination. Everyday items aren't necessarily easy to create, but you have more reference materials," said Moriah.
To reference the haunted and the spooky we need look no further than the shadows. Like the one behind you. The one that just moved.
Boogeymen, ghosts, wizards and boggarts reign at the stroke of 12 on Halloween night in the CDHM Galleries. Prepare to be enchanted.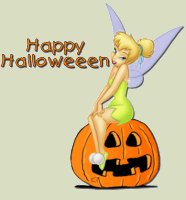 Copyright © 2004-2008
Custom Dolls, Houses & Miniatures / CDHM