Dollhouse Romance
By Alice Bell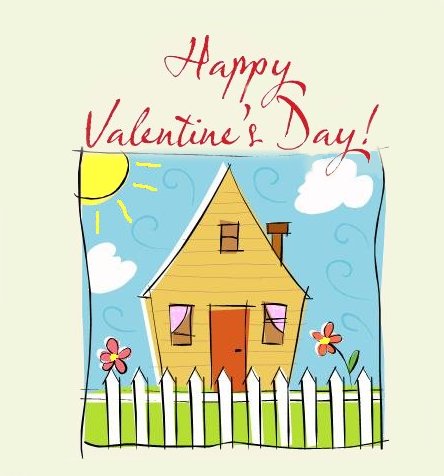 Red, ruffles, lace, roses. And chocolate. Lots of chocolate. And maybe some cake -- What do the above have in common?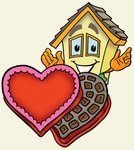 Valentine's Day in the dollhouse!
Romantic touches in the dollhouse are appropriate all year long, not just at Valentine's Day. But such a romantic holiday really deserves to be included in the dollhouse.
"The most romantic thing I would make for a dollhouse setting would probably be a lacy canopy bed set. When I think of romance, I think of lace and frills, ruffles and soft texture and soft colors," said Dale Chimel.
"I would have lots of red roses, lace and candles – maybe even an intimate dinner for two," said Kathy Phipps.
And included in that intimate dinner for two would be cookies!
"My Valentine Cookie of the month bouquet would contain heart-shaped cookies with red frosting, some Valentine suckers and of course a big red bow," she added.
Her special Cookie of the Month idea has generated a lot of interest in the mini world. A monthly subscription of a mini gift once a month is much more exciting than the traditional flowers or fruit in the real world.
And chocolate? The chocolatiers in the CDHM Galleries are too numerous to believe! Foodie Amanda Thomas created a special three-tier tray filled with all sorts of chocolates imaginable.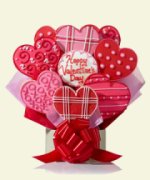 "What a rush I had working on those! They took several days to make, but turned out just as I imagined," she said.
French artisan Stephanie Kilgast took a more traditional approach with her chocolate presentation.
"I made a luxury box of the sweetest chocolates all perfectly wrapped in a beautiful red box. It's an elegant present, rather big and very festive but still in the 1:12 scale at one by one inches," she said.
And just for something a little different for the tinier tables, Alison Brand created a 1:24 scale raspberry cake for two.
"It's a pink iced raspberry sponge cake on a stand with two cut slices on matching plates with forks," she said.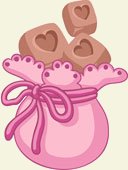 Outside the kitchen, Dale's creations focus more on the softer side of Valentine's Day.
"Quite simply, I love both frilly and modern styles! I love all kinds of styles of decorating, I think it's just in my blood. That's one of the great things about being involved with dollhouse miniatures, you can do it all and have it all! Unlike in real life, where you can't change the decor of your home on a whim, you can in a dollhouse or room box.
"But like in real life, you don't have to match your interior decor with the exterior style of the house. If you have a Victorian or Tudor dollhouse, you aren't locked in to only using those styles on the inside. You can decorate it with any style furnishings that you like. Many people like to decorate their dollhouses and room boxes for the holidays, plus you can change the decor seasonally.
"My favorite would be changing out the decor of the interior to suit any whim I might have. If your rooms have been painted or wall papered in neutrals, or in your favorite colors, why not change things around as often as you like. I promise, I won't say you're playing!" said Dale.

The exterior of the house is what intrigues Abby Benner.
"For a Valentine's Day scene I would make a trellis covered in climbing roses, dripping thickly in deep red roses, so that you could almost smell the rich scent, with a stone, mossy floor I think," said Abby.
She also believes a rich color is important, especially reds at Valentine's Day.
"To color the petals I use acid free ink, which soaks into the cotton crepe so when punched no white edges show, I also color my leaves with ink, in several shades of green. I also shade each petal with a bit of white ink, so there is a softness and subtle shade difference to each bloom. I make my roses with cotton crepe paper. Depending on the type of rose, I would use either hearts or circles punched out, and my own laser cut rose leaves. For each calyx, I would use my calyx punch.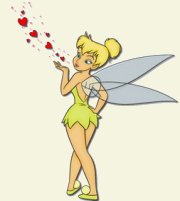 Copyright © 2004-2009
Custom Dolls, Houses & Miniatures / CDHM