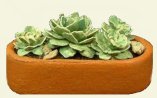 The husband and wife team behind Pearce Miniatures is a case of true love growing wild.
Era Anderson Pearce, along with husband Bob, create 1:12 scale and one-quarter scale flowers and plants, with some mini food and accessories thrown in for good measure.
"I've been a miniaturist for 20 years and a lifelong gardener. Before we retired to Arizona, we lived in Virginia with a greenhouse where, among other things, I created full-size terrariums for customers," began Era.
"I thought, why not try miniature ones, it should be a snap for a know-it-all like me. Right! Of course I chose to use real, one piece, solid glass bottles. Still thinking 'this is going to be so easy', I picked up a tiny plant to insert through the bottle's neck and was shocked to find that my tweezers would not open to release the plant!
"Every time I pulled my tweezers out the plant was still in them. After three days of frustration, tears and lot of cursing, I mastered it," she exclaimed.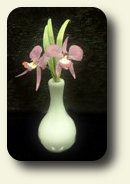 Era was awarded IGMA Artisan in 2005 and a Fellowship in 2007 in the category of flowers and plants, an honor that did not come easily and that she is extremely proud to have achieved.
"I've had Rheumatoid Arthritis since age 25, so my fingers don't bend or grasp well and my wrist joints have been surgically removed," she said.
For training, she counts many hours of Horticultural classes at the Norfolk Botanical Gardens in Virginia.
Her interest - and her husband's - in mini flowers and plants came about in part due to a retirement dream of leaving the greenhouse behind for the allure of a motor home on the open road.
"We motor homed around the country doing shows and having fun for five years before settling down in Mesa, Arizona. Due to our lack of space in the motor home it seemed only natural to combine my two loves: plants and miniatures."

In Mesa, their new home included the luxury of a 16 by 16 foot studio for mini making. Now, her biggest challenge is painting specialty papers to create her incredibly realistic flowers and plants for miniature gardens and keeping track of her ever-important tweezers and needle tools.
"I recently completed a three-year landscaping commission for the new "Mini Time Machine Museum" in Tucson, opening in October. It took me five days to install it," she exclaimed.
Bob's contribution for the landscaping commission was "a gorgeous, individually leafed Maple tree".
Their items are for sale in their CDHM Gallery, on their own website and at miniature shows for between US$3 for floral supplies to several hundred dollars for Wisteria vines.
"My dream for miniatures is for handcrafted pieces to be recognized and categorized as true art, not just Dollhouse Miniatures," she said.