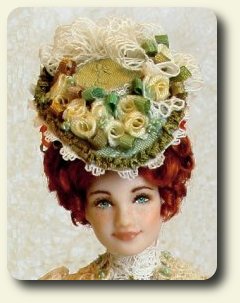 "You are like a balloon flying in the air, weightless and dreamy, immersed in art, linked to the real world only via a very fine string."
So said Italian artist Eugenio Guglielminetti of miniaturist Elisa Fenoglio. Her daughter, however, has a different vision of dear old mum. Something unflatteringly along the lines of the wicked witch in the fairy tale Hansel and Gretel!
"When my daughter was younger and went to nursery, they discussed which job their mummys did. She answered spontaneously that her mum cooks little girls in the oven, obviously referring to my sculptures, but the teachers were quite shocked, they didn't immediately understand that I'm a doll maker!
"But I feel exactly like the balloon when I dedicate myself to my wonderful work: I forget everything around me and am projected into an artistic and creative dimension, in which colours, combinations and beauty have the upper hand," exclaimed Fenoglio.
A graduate of the Academy of Fine Arts of Turin, Italy, Fenoglio specialized in Scenography and Costume in 1997 but did not enter the 1:12 world until five years ago via a request for 1:12 scale figures for roomboxes.
"My love for miniatures was born during my time at the Academy, when I had to make models of the sceneries and the costumes in order to pass my exams. The passion for dolls and sculpture, however, has always been part of me.
"My entrance into the Italian arts world was immediate, with important experience quickly gained in theatre, television and the cinema alongside some of the greatest directors such as Luca Ronconi, Ugo Gregoretti, Mario Missiroli, Lina Wertmuller, Gabriele Lavia and costume designers such as Eugenio Guglielminetti, Vera Marzot, Gino Persico, Luciano Damiani," she added.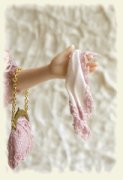 These influences combined to allow her to create 1:12 scale dolls in porcelain and OOAK figures in clay, measuring between 7 to 10 inches. Other works include personalised portraits and illustrations for scholastic publishers, greeting card, catalogue, poster and advertisements for various companies. She quickly gained acclaim in miniature magazines both in Europe and the USA for her work.
"My love of detail, of precious materials and of colour and form harmonies has taken me to my latest adventure in the creation of little enchanted figures such as faeries and mermaids that express my delicate and fairy tale style to the full," she said.
When she made her first dolls, she used commercial molds, but recently began to chafe at the limitations this placed on her creativity.
"I didn't feel that my creations were entirely my own. So, last year I decided to make a doll mold that was completely mine, sculpted by myself, with my personal style," she said.
She finds inspiration in the patterns of antique clothes and dresses and photos of costumes in museums.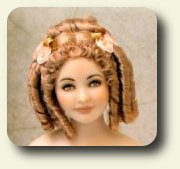 "I also enjoy experimenting with new techniques and researching different effects: I never finish learning and this is very stimulating. Probably my most valuable tool is my passion. I wouldn't have reached any of my goals without that.
"When I create my dolls I unite my experience as a costume designer with the continuous research of new combinations of materials and colours. Having had the fortune of working in theatre and cinema productions with historical costumes, I was able to study first hand the clothes and the dresses of ages past. There isn't a specific artist from whom I draw my inspiration."
Inspiration is never in short supply for this Turin-based artist. Rather it's narrowing down her richness of vision to give each doll that certain something special.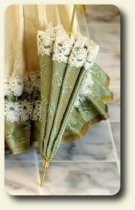 "The most delicate part of my work is to put the idea I have of a mini-person in a three dimensional character, without losing anything that makes her unique," she explained.
She is a member of CDHM, IGMA, the Italian associations of miniatures ADMI and ABIM and the English association AIM (Artisans in Miniature). Lucky attendees of the Miniaturital show and others organised by the ABIM could take one of the workshops she gives there.
"I often work on commissions received during shows like Miniaturital or from the web. I display my creations in Miniaturitalia, the only Italian show dedicated entirely to miniatures and dollhouses, and in Tom Bishop's show in Madrid, Spain; and the Simp show in Paris, France," she said.
"In the future my ambition is to participate in other International shows in the hope that I can offer more and more meticulous and refined creations to the public, bringing a little bit of Italian craft to the world. I would like to reach a level in my art to deserve one day (in a very far and improbable future) to be a permanent exhibitor in an art and craft museum."