Sneak a peek at a day in the Life of the Little Victorians by member, Karim Cheikh.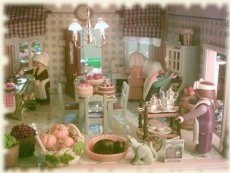 Those members who have visited the Dollhouse and Room box threads have been treated to a very special visual feast offered by Karim Cheikh (victorian67). Karim's specialty is creating worlds where his playmobile people live, laugh, and play. He also has been posting short photographic stories depicting such events as The Birthday Party, Autumn Harvest, There is Magic in the Air, and A Christmas Miracle on Regent St. to the delight of his followers. Maybe the next installment will be a Valentine?
A special thank you to Karim for sharing his creations.