It happens when we're born.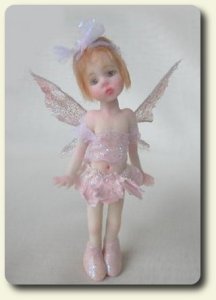 That magic moment when a person knows exactly what it is life is supposed to hold, what path is supposed to be taken.
"I have read that a person is born knowing what they want to do in life but tend to get sidetracked along the way," said Deborah Gouldthorpe of Fairy Glow Gallery.
And her goal?
"I think that sculpting my wee tiny creatures has brought me back to what I wanted as a child…..to create tiny 'little people' who lived in doll's houses. I can remember fantasizing about a dollhouse in which little people lived. When I had my two boys I started to make bears and stuffed dogs," she said.
Bears and dogs led to original cloth dolls and clothespin dolls she sold at craft shows. Then came the polymer clay sculpts after she saw some clay fairy sculpts on Ebay.
This path has not been without some risks.
"When I was learning to sculpt and had finished my first fairy that I thought was good enough to sell, I realized I had forgotten to make holes in her back for the wings.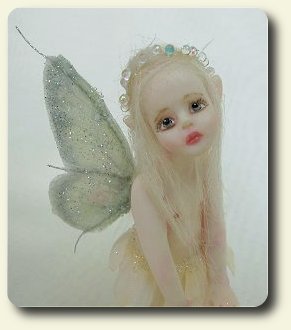 Well, I foolishly tried to drill the holes after she was wigged and costumed. Let's just say she took flight and I was just lucky that she didn't fly thru a window or knock out my teeth. Needless to say, she never made it to auction, due to quite a few bumps and bruises of her own, and still sits on a shelf in our family room reminding me you need to be very careful when working with 'little people'," said Deborah.
Her world of 'little people' is comprised mostly of fairies and mermaids in 1:12 scale. Despite her belief in her predestined creative path, Deborah didn't start out sculpting so small.
"When I began sculpting fairies, they just seemed to get smaller and smaller - to the size I think a "real" fairy would be," she said.
She looks to things of the past for a large potion of her inspiration.
"I love many of the "turn of the century" early 1900's fantasy painters and illustrators. One of my favorites is Mabel Lucie Attwell. My memories of long days at the beach provide me with much inspiration for my mermaids, too. I was born and raised in Erie, PA, and as a small girl, every weekend my family would picnic on Presque Isle, our beautiful peninsula with miles and miles of sandy beaches," she said.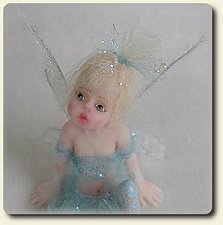 In addition to CDHM, Deborah is a member of Global Doll Artists and the Ebay group Art Dolls Sculpture. She is entirely self-taught from books and internet research.
"Even though my creations are fantasy, they are modelled after the human form, and sometimes proportions and certain parts of the anatomy can be challenging. But, I try to learn more and improve with each new sculpt, and feel it will always be that way. My favorite tool is my flat clay shaper, and my tiny creations would not exist without my head magnifier," she said.
Her creations are sold on Ebay with low starting bids, but from there, the sky's the limit.
"My husband helps me with my computer images and auction presentations.
My family loves my art, especially my mother, who is an artist herself," she added.
Visit Deborah's CDHM Gallery