Art Deco dollhouse was exercise in loving discipline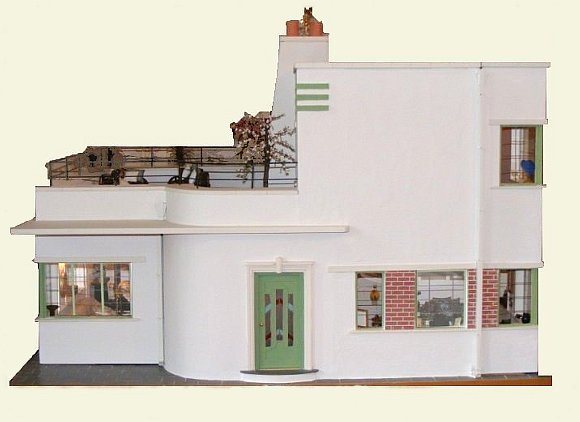 By Alice Bell
Photos courtesy of
Katina Beales

The year is 1934.
Curves, glamour and stunning style rule the day.
The period? Art Deco.
The name evokes images of linear creations in steel, glass and inlaid woods. The history of the Art Deco period is as exotic as the creations it left behind. Based on an artistic movement, the name is said to be derived from the 1925 Exposition Internationale des Arts Décoratifs et Industriels Modernes (International Exposition of Modern Industrial and Decorative Art) in Paris. Its forms are based on geometric shapes with strong cultural influences such as Africa and the ancient cultures of Babylon, Egypt, Asia and Mexico's Aztecs.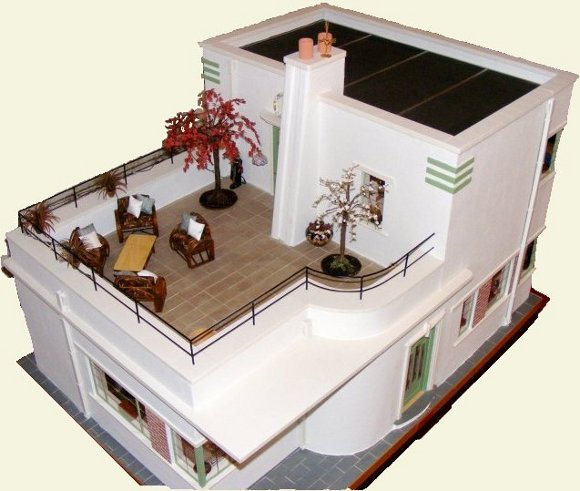 Chevrons, sunbursts, boldly sweeping curves and stepped forms all featured in great repetition throughout buildings, ships and couture. At the time, it was a glorious celebration of the Machine Age and manmade materials.
The bold grace and glamour of the structures that remain catch the eye for their construction and the workmanship that went into their creation.
Such a structure caught the eye of miniature collector Katina Beales.
In 1:24th scale, that is.
"I went to the Kensington Doll's House Festival in 2006 with the intent of buying a miniature house. I did not know what I wanted; I knew what I didn't want - Victorian or Edwardian! I live in a Victorian Rectory deep in the heart of the English countryside!" said Katina. Continue the Article
Copyright© 2010
Custom Dolls, Houses & Miniatures / CDHM