CDHM The Miniature Way
February 2011, Issue 13
Foods In Miniature
Page 8
Foods In Miniature
---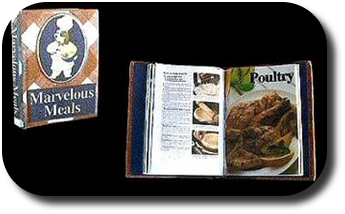 By the way, did you know that the famous French chef, Michel Roux (senior) always sent his students to Italy to learn how to cook! Instead of heading to Italy to learn cooking skills you could always try a few recipes from Pat Carlson's "Marvelous Meals"!
MiniAcquoline gives us a fabulous 12th scale Italian Ravioli table while Stephanie Kilgast makes a mouth-watering spaghetti Bolognese and then there is my own humble homage to the food I adore...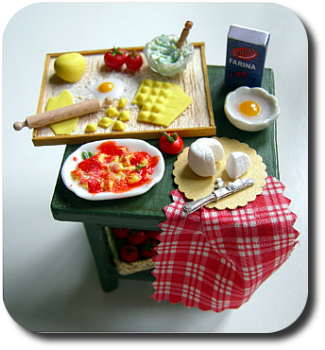 a lobster ravioli preparation board with homemade pasta of course!
Speaking of lobster, if the perfectly cooked, fresh lobster - plain, Newburg or Thermidor - were to materialize out of your kitchen, would that not be "From the Kitchen With Love?" LEFT, CDHM Artisan Pat Carlson has created the must have for every dollhouse kitchen, a cookbook.
RIGHT, 1:12 Ravioli prep table for any dollhouse kitchen by CDHM Artisan MiniAcquoline
BEGINNING OF ARTICLE, Lobster ravioli in 1:12 scale by CDHM Artisan and IGMA Fellow Linda Cummings
I know in my house it would be. Lobster just has to be the best food in the world and if it's cooked by an
Copyright

©

2011
Custom Dolls, Houses & Miniatures / CDHM