CDHM The Miniature Way
December 2010, Issue 11
Book Review
Page 19
Book Review, A Fabulous Dollhouse
---
"Doing what one doesn't enjoy takes a lot of energy and leaves the less for the doing of what one does enjoy," Ettie writes.
What miniaturist isn't entirely too familiar with this sentiment? What Carrie did enjoy were learning, reading, conversing and working on the dollhouse - a labor of love that spanned 19 years due to her other obligations. It stands in tribute to what Ettie believes Carrie would have done in other circumstances, stage design.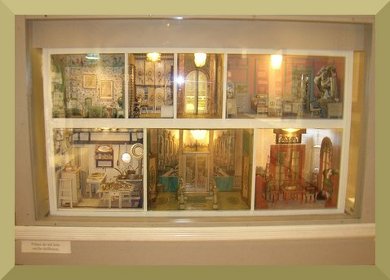 Noble's homage to the dollhouse certainly depicts a creation by someone with a flair for color, setting and style.
After Carrie's death the house passed to Ettie, who then donated it to the Museum of the City of New York in 1945. After many years of being the Belle of the Museum and lauded as "a fashionable cliché and the apex of taste," a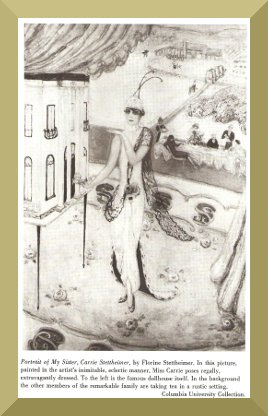 visitor referred to the house as "downright dowdy."
No house featuring miniature works of art by the Archipenkos, Marguerite Zorach, Albert Gleizes, Claggett Wilson and Marcel Duchamp as well as miniature books by Philip Moeller, Carl Van Vechten and Henri Waste should ever be referred to as dowdy, so the museum staff carefully cleaned, restored and freshened the house.
As part of this restoration, decorations were created along the lines of the decorative elements that had been noted at actual Stettheimer parties. These things were "avant-garde and sumptuous," like gold, crystal, cellophane curtains, jeweled trees and tinsel flowers.
What's a party without guests? The Christmas Party at the Stettheimer's restoration also added equally unique dolls based on paintings by the third sister, Florine, an accomplished artist whose paintings hung in many museum galleries. Research by the restoration staff uncovered plans for an uncreated family to occupy the dollhouse whose group portrait would have been painted by Florine and hung above the ballroom fireplace.
Copyright© 2010
Custom Dolls, Houses & Miniatures / CDHM