CDHM The Miniature Way
Hitty and Friends
June 2010, Issue 6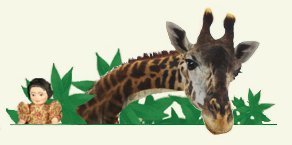 Did you know that Hitty travels? Indeed she does. The 1929 book, "The first 100 years" by Rachel Field, was like a diary of sorts, giving the reader experiences from Hitty's point of view. From her very own perspective, Hitty would tell her memoirs of travels with Phoebe Preble, for whom Hitty was made. Miss Phoebe was very proud of her doll and took her everywhere.
The Hitty phenomena caught on, and collectors continue The Hitty Adventures by taking their Hitty's with them and capturing pictures of Hitty's exploits and travels.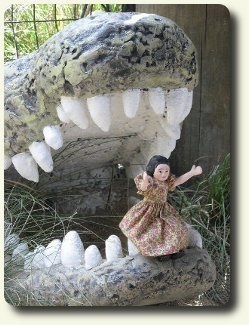 This time around, Pat Carlson's polymer Hitty traveled to the Florida Zoo with her for a harrowing adventure.
First stop - and almost the last - was the famous Florida alligator exhibit.
"I know what most of you are thinking, big, ugly, and all-together scary reptiles," shared Hitty later that night in her new diary.
"But actually the American Alligator is usually a very misunderstood and maligned creature. I had hoped to be able to change your minds about the alligator or maybe at least soften it up a little bit. Even after my little adventure I am still quite convinced the alligator has achieved an undeserved reputation," states Hitty in her diary.
Florida has many wild alligators, but the American alligators in the zoo are kept safely behind fencing in big ponds. Yet even this fence wasn't enough to keep our intrepid adventuress safe for long.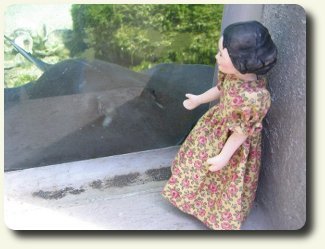 As is the nature of our intrepid Adventuress Hitty, she drifted away to wander around the exhibit. Out of the blue, up popped a huge male alligator and before she knew it, into his mouth she went.
Shouting and screaming drew the attention of other visitors and thankfully Hitty was able to get away with the help of her friends.
The next stop - and a far more relaxing visit it was - included the sting ray aquarium with its big viewing windows.
One very interested sting ray, came right up to the window to say hello!
All in all the day was wonderful and everyone, including Hitty, had a new adventure and a new entry for their memoirs.
Copyright© 2010
Custom Dolls, Houses & Miniatures / CDHM