CDHM The Miniature Way
Mini Found Objects
June 2010, Issue 6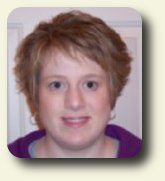 Pack your tent for some
  relaxing mini camping!
Lu Garcia aka llamalu
Staff Writer

---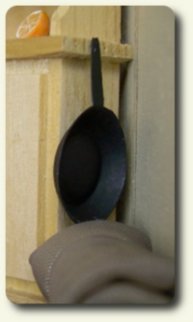 How do you like to get away from the regular daily life?
A cruise or a stay in a hotel can be wonderful without lifting a finger. You can shop, visit the local attractions, eat out and lounge around the pool. But a camping trip offers a different kind of relaxation, a true getting away from it all vacation.
Nothing compares to cooking breakfast in the morning over an open fire or sitting around the campfire late at night with the stars twinkling overhead while you telling stories - ghostly or otherwise. Add in some fishing and hiking and you'll have memories that everyone will treasure for years to come.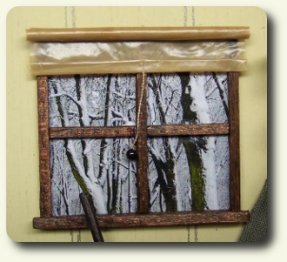 So if you can't get away to the woods this summer, how about creating your very own campsite in miniature? Pictures of this ½ scale scene show how some everyday items can be made into a woodland cabin getaway.
Before you toss out that used up favorite bag or purse, check out the inside lining. Some of them will have several types of fabric inside if it is divided into multiple sections. Slick nylon linings are great for creating scaled down tents, sleeping bags, and other camping gear.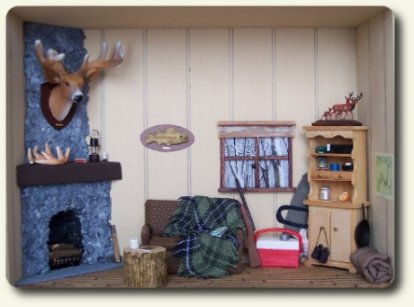 Even the couch in this cabin is made from a purse lining! It just goes to show exactly how versatile these potential trash dump fillers can be when salvaged.
And what do you do with the packing materials from a mail order treasure? The fireplace in this scene is painted from a chunk of Styrofoam packaging and equipped with its own grate of logs cut from a metal air filter.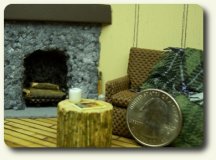 And don't throw away those cards after the holiday has passed! A stash of greeting cards with nature scenes make perfect window scenes when cut to fit and inserted into the cabin window. I used a winter one for this particular box since it had a hunting theme. A plastic grocery bag rolled onto a toothpick makes a great window blind.
Aluminum foiled blister packs from medicine make awesome cookware. They can be trimmed down to the depth needed with or without handles. Flatten out the bubble area and paint it black to look like cast iron.
Another idea is to add some small souvenirs from your vacation to your scenes or dollhouse as mementos. And the best thing is they won't take up too much room in your suitcase to bring home!
Copyright© 2010
Custom Dolls, Houses & Miniatures / CDHM