Reisl Lackinger
Staff Writer
---
Essentially Japanese Cooking and Cuisine by Hideo Dekura is a wonderful book. A food miniaturist will love the colorful photos of unique, authentic Japanese dishes. Even those of us not concentrated on creating miniature food will appreciate the fabulous colors and food combinations. Maybe even get some inspiration for the real life kitchen, right?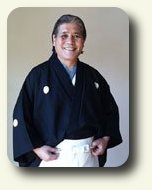 It inspired me, a definite non-cook, to try my hand at a couple of the recipes. I knew when it arrived in the mail from my nephew who is stationed in Japan that I had to review and share it with my fellow miniature makers. And, a search at Amazon shows that it is available for a price of US$30.00. I think it is well worth the investment.
Essentially Japanese Cooking and Cuisine is a great find - it's more than just a cookbook. It goes in-depth exploring the culture of Japan and how food is an integral part of the culture. Information on religion, geography and regional aspects that relate to types of food and why they are common and/or used are also discussed.
So many times, we pick up a cookbook and it's full of wonderful recipes but what do we really know about the recipe? Where was it developed? Was it created due to availability of ingredients in hard times? These and so many other questions are answered alongside the recipes in this cookbook. It not only makes for a nice inspirational book for the home cook and mini food chef, but also a very interesting and informative read.
Sections covered in the book are presented in a building block manner. First are cultural influences, seasonal and regional foods from traditional (Wa-shoku, Japanese food) and modern (Yo-shoku, Western food) recipes. Then the book proceeds to primary ingredients for the Japanese kitchen and a section devoted just to rice, a Japanese staple. The rest of the book follows with recipes that are categorized by main ingredient. A few examples of recipe sections are sushi, noodles, fish, poultry, tempura and sweets.
Each of the recipe sections present several recipes involving the main ingredient. My personal favorites are the sushi and vegetable sections. The sushi section is filled with detailed, color photographs that will make your mouth water and your fingers itch to recreate the food in miniature. I don't think one mini artist would be able to look at all of that sushi and not think, "Now, I wonder how I can replicate that little roll?"
And your mind will be racing not over ingredients but what medium to use. The same can be said for the vegetables. My favorite part of the vegetables is the introduction of veggies not commonly used. Or, I should say, not commonly used in my kitchen. If your household is like mine - chicken a couple of different ways and mac and cheese - then I think it's safe to say you will smile and love the vegetables presented in this cookbook.
There is what I think of as a nice little bonus in the cookbook: a section on beverages. While many foodie artists concentrate on the food, I don't see beverages very often. I like that the beverages in this book will probably inspire quite a few of us to replicate a few Japanese drinks to put on our mini tables. From sake and green tea to different varieties of Japanese beer, it will inspire us to recreate a full Japanese meal.
I recommend this book for the library. It's such an interesting read and a wonderful inspiration. Even for those not a food artist, you will see everyday living in Japan while learning the background of foods common in Japan. There might be a Japanese house waiting to be built after one of our house artists flips through the inspiring pages. Or, a table and bench set waiting to jump off the pages when one of our furniture makers reads it. I even thought I saw the inspiration for some unique Japanese turned bowls in there.
This book definitely gets my thumbs-up stamp of approval.
Copyright© 2010
Custom Dolls, Houses & Miniatures / CDHM