Artist: - MUFFA Miniatures - Mariella Vitale
OOAK Artist Miniature Bear
This little bear is fully jointed (5 ways), turns the head and moves the arms and legs and is 48mm tall (approx 1.88").
The collar is crocheted with cotton thread and is removable (there's a sparkling bead on the back).
The flower on the head is fixed in place.
The nose is embroidered with tiny stitches and then well lacqued for a sparkling look.
She will come into a transparent box for display.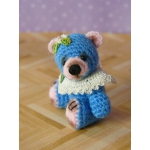 Large picture
tags:Dolls and Clothing