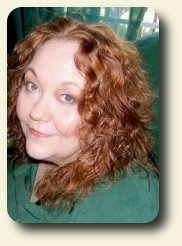 Like many other miniature artists, Abby Benner has always loved tiny things. Six years ago her daughter, then age nine, decided she liked tiny things too and requested a dollhouse for Christmas.

"I had never really been bitten by the mini bug, so I foolishly thought I will buy her a nice dollhouse. But when I realized what it would cost - fully furnished, electrified, and decorated - I was daunted. I decided since I was crafty, I might make her one from a kit. I was terrified of the electrical, and being a divorced mother couldn't push that task off on her father, so I just learned everything I could and jumped in," said the Sterling, VA, native.

Despite her misgivings the house turned out well and Abby decided it needed that special touch of green.

"I bought some plants off Ebay, but was very disappointed in them and thought I could do better myself."

So a few kits later her imagination took root and she did. Armed with many types of tweezers, especially the really sharp, easy tension varieties, lots of paper, wire, paint, ink, glue, clay and lots of patience later the house had plenty of greenery.

"I realized after putting two or three kits together that I could do this on my own and started winging it. I designed new plants and flowers and had so much fun doing it that before long, the house was fully landscaped, took over my entire dining room table and was completed on Christmas Eve," she said.

Her daughter was thrilled, but after a few days Abby learned what all fine crafters do upon completing a big project.

"I felt bereft. I loved making her house. It had occupied all of my free time for two months and it was over," she exclaimed.

She quickly decided her favorite part was the landscaping and began making more plants, sending them to on-line friends she had met while creating the house.

"I had joined many miniature groups to learn everything I could. They loved my plants and flowers, and one friend asked me if I sold them. Sold them? NO! Who would buy these? I was not confident at all," she admitted.

But like the dollhouse project, she decided to give it her best shot.
"I made up about 30 different plants and went, very hesitantly, into a local dollhouse shop, inquiring if they bought local work. The owner was leery, she said it depended, then asked to see my wares," said Abby.
A quick visual inspection was all it took for the owner to take all of them.
"She must have seen the look on my face, because she took me by the arm, and showed me every plant and flower in her shop, then took me back to my own work. She told me not only were mine in better scale, looked more realistic, but the quality was far superior than any she had in her store. I was beaming!"
The owner was rewarded by Abby selling exclusively through her store for several months before an on-line shop of her own beckoned.
"My brother told me I should sell my plants on line, but I knew nothing of starting a website. He is very supportive, but at first when he saw my work, he said with great sarcasm, "They are so small, what do you use? Tweezers???" When I simply said yes, he was amazed. Since then he is one of my biggest fans. He really doesn't understand the love of minis, but he does appreciate my work very much. As a surprise gift to me, he created my on-line store, and has been my webmaster ever since."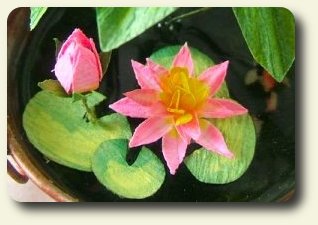 Her brother didn't realize when he set up the store that he was giving Abby a true boost in the miniature world.
"Within days of my on-line store opening I was contacted by Lauriel and Betty of Belara Beach Originals (BBO), and asked to be a partner, supplying them with all their plants and flowers. That partnership has bloomed into a wonderful friendship, and a lucrative business deal as well. I have now sold from my own site, www.Mini-Quest.com , to over 30 countries. I have no idea how many countries www.belarabeach.com, has sold my flora to now. It has been a wonderful experience," she said.
Her accolades are well deserved because of her attention to realistic detail, which has also caused confusion with real plant sellers.
"One of the funniest was a man from the sister company of Vermont Teddy Bears who contacted BBO and myself asking for us to supply all of their miniature tomato plants. His site catered to upscale mail order real plants and flowers.
"We spoke with him, and explained that my tomato plants were dollhouse miniatures, not real plants. He said yes, yes, of course, but can you drop ship the plants directly because last year they had a problem with one supplier's strawberry plants dying prior to arrival due to an intermediate shipper.
"We tried again, saying these tomato plants are made from paper and clay. When he finally got it he laughed so hard and said he was completely fooled. That made my day!" she said.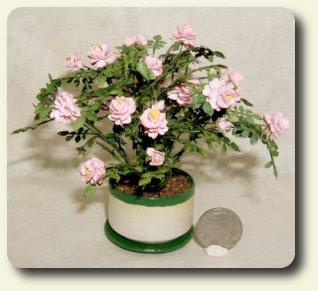 Miniature flora creation was a long way from her college days as an illustration major specializing in ink and water color In those days her credits included an album cover and illustrating a children's book.
"If I am not creating something, I have an empty feeling that is not satisfied until I begin something again. I work full time for the government, so of course miniature flora is my side line. But I also bead, crochet, read and do needle work. I have some craft or other at various stages constantly," she said.
Her daughter and music play a big part in her life as well.
"My daughter loves my work and I love spending timewith her and her friends. I also love music and have many friends who are musicians. I am not adept at anything remotely musical, but I thoroughly enjoy listening to them play and combine their talents in impromptu picking parties," she said.
Her family was divided between music and art while she was growing up.
"My mother was an artist, she did lovely oil paintings. The rest of the family excelled at music. My father played the sax and sang, my brother guitar, my sister piano. My brother also paints eclectic wooden objects with enamels, and some of his pieces are stunning. All of his work is very abstract," she said.
Coming from such artistic roots, it is easy to understand how Abby is so creative.
"I find my inspiration all over the place, from any plant or flower that catches my eye. Once I saw a plant out side a closed Chinese restaurant and had no idea what it was. I went back the next day to ask the owners but they spoke very little English and couldn't tell me what the plant was. I took photos of it and posted pictures with various groups on line until I found out it was Coral Bells. I had to design some! Within a few weeks I had a new laser design ready," she added.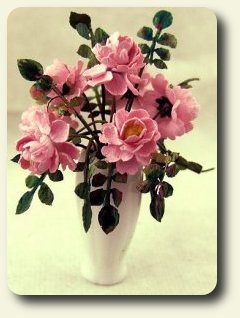 "I am also drawn to Monet, Maxfield Parrish, and my favorite artist John William Waterhouse. I love art, always have, and they inspired me with their subjects and use of color," she said.
In spite of selling out her sample collection on her first outing, her favorite compliment comes from her daughter.
"My daughter loves my art. Near Easter we were in a store and she grabbed my hand and pointed toward the Easter Lilies, saying 'Mommy! LOOK! Those flowers look just like yours, only BIG!' It was the best compliment I could receive," she said.
Those Easter lilies were also featured in a how-to article in American Miniaturist magazine. Her favorite scale to work in is the classic 1:12 but she would love to be able to shrink her flowers to 1:24 some day.
"As soon as I can get the same detail I have in my 1:12," she said. All her creations are spread out over the dining room table, just like the dollhouse that started it all.
"We live in a small apartment and one day I would love to have a house with a workshop all my own. But for now, my dining room table works well for me," she said.
Prices for her creations go up from $8, depending on the piece and complexity. She can custom make an entire garden depending on the request. She also enjoys teaching others how to create their own plants.
"I have conducted several workshops. A few for the Girl Scouts, and a couple for adults who wanted an introduction to miniature flowers. There are always one or two, especially with the girls, who really take an interest and you can see they are completely focused. That absolutely delights me. The thought of passing along this craft to the next generation really makes me take pride in my work," said Abby.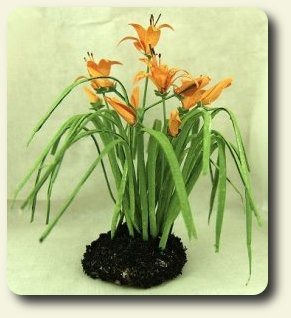 Even though sometimes the work can be difficult. Her hardest project is creating the masters for her laser cut designs.
"I work for weeks on end on my designs, hand cutting them and then assembling my plants prior to having them laser cut. I have to make sure everything works as it should, or as I imagined. I can't tell you how many renditions I have had of various petals and leaves until I felt I had them just right," she exclaimed.
Her future is blooming, although her dream of full-time mini flora work is still only a seed waiting to be nurtured. In the meantime, an old friend has become new again and a joint project is growing.
"I am planning a collaboration with Ann Vanture of Paper Minis, www.paperminis.com We were childhood friends and rediscovered each other in miniatures 40 years later. Her work is phenomenal, and I am excited about working with her. Ann is one of the nicest people I have met, and we have so much in common. It has been a tremendous pleasure getting to know her again," she said.
For others, the pleasure has been to discover the exceptional florals of Abby Benner.