CDHM The Miniature Way
October 2010, Issue 9
Featured Gallery
Page 47
Continue, Hanna Lindroth of Mini Chef
---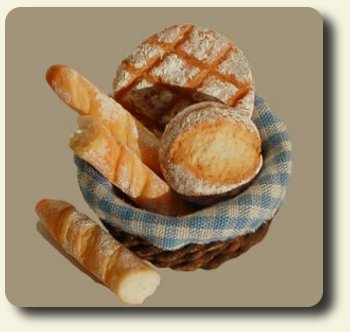 With a repertoire of foods that epitomizes the old adage "from soup to nuts," Hanna's creations include breads, savory meals, French pastries, tripled layered cakes or sweets like strawberry fudge. As mouth-watering as this sounds, we can't forget the amazing detail she incorporates in everything she makes.
"I also love to create different preparation boards: for example, a board where a cake is being iced and decorated with meringues or where a pumpkin is being carved and prepared for Halloween."
A self-taught artist, Hanna prefers to work in 1:12th scale.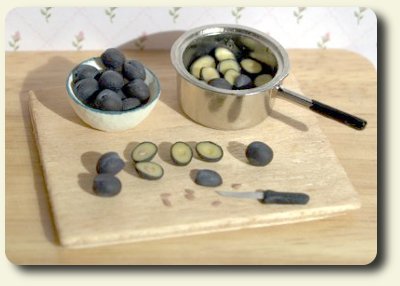 "It is large enough to make those tiny details as realistic as possible. I do however also work in some smaller miniature scales and in play scale sometimes. I often find inspiration from daily life, such as when I have coffee with friends at cafes or eat in a restaurant. I also find magazines and cookbooks to be inspiring or the forum at CDHM, where everyone is so supportive and friendly, in particular fellow food artisans Betsy Niederer and Linda Cummings."
With a mind that just brims with activity, Hanna has many ideas she is just waiting to bring to life.
"I have a lot of miniature foods that I would like to make, they poke for my attention all the time. I think it is a part of the charm with making miniatures and especially miniature food. There are no limitations of what you could make!
"I would like to make a collection of sweets, cakes and pastries centered around a romantic theme. The trick, I think, is to finish the first project before starting on a second one! I often work on at least four projects at one time."