CDHM The Miniature Way
October 2010, Issue 9
Animals and Bears
Page 44

I have saved Linda Master and her pet chicken, Miracle for last. Sadly Miracle has passed on, but she has touched Linda's heart in a way that any animal lover can relate to. She inspired and brought so much joy to Linda that listening to her story warms your soul like a crackling fire on a cold winter's night.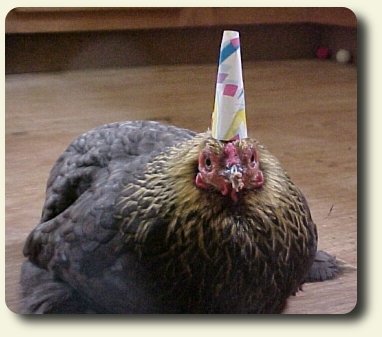 "She was the inspiration for my website, I just wanted the whole world to know my little girl."
And Miracle was indeed Linda's little girl.
"I hatched her, I was her mother... and she was my world. She was so playful. I'd hold up her stuffed balls, she'd peck them and they'd go flying. She loved that so much that I made her a basketball hoop and she could sink baskets!
"She also liked to have her toys balanced on her head! She'd stand perfectly still... it was so much fun. On her sixth birthday she wore a little party hat that I made and enjoyed a special birthday cake."
Such a special companion like Miracle will never truly be gone.
I would like to thank the animal artisans of the CDHM Galleries who contributed their time and shared their stories and pictures with us. I would also like to thank Sandy, my Pug, who rests her head on my foot and sleeps soundly as I write each column for The Miniature Way.
Copyright© 2010
Custom Dolls, Houses & Miniatures / CDHM