CDHM The Miniature Way
September 2010, Issue 8
Tutorial
Page 38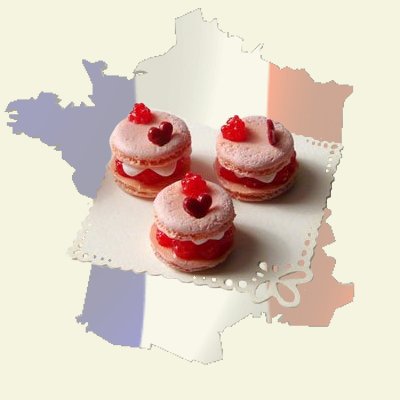 ---
Let's learn the techniques used for making French macaroon dessert (Ispahan Macaroons). Peiwen Petigrand of Oiseau deNim Miniatures will walk you through step-by-step instructions on how you can make your own macaroons.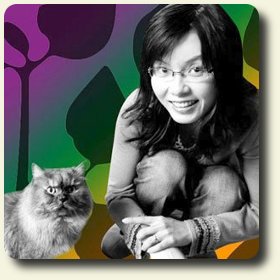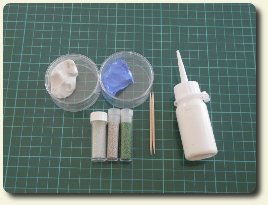 Materials Needed


►   

Fimo© Polymer Clay




 - Orange, Classic 4




 - Red, Classic 2




 - Transparent 014




 - Transparent Red 204




 - White, Soft 0


►   White Chalk Pastels
►   Red/Azo Deep (Van Gogh 313) Oil Paint
►   Whie Acrylic Paint (A-Mantegna AT001)
►   Liquid Fimo
►   Silicone Putty Clay
►   Beads, Micro (0.5mm-1mm)
►   

Tools




 - Pasta machine, White glue, Paintbrush, Kemper Cutter: Round 5/16" (0.8cm), Ballpoint tool, , Needle tool, Punch: Heart Shaped 1/8" (0.31cm), Toothpick, Toothbrush or Scrub Sponge, , Varnish: Glossy Type, Tile and an Oven
---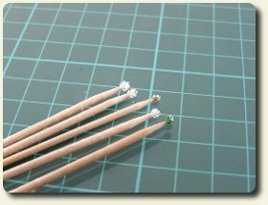 Step 1

We'll start by making the raspberries. Start by taking a toothpick and apply white glue to the end. Dip the tip end into some micro beads. You will need to wait for several minutes afterward to allow the white glue to dry. Then continue adding more beads to create the exact shape that you want.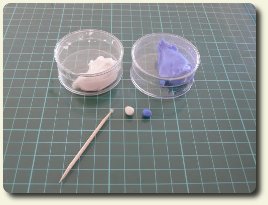 Step 2

Next we'll make the raspberry mold. Start by taking a small amount of white and blue silicone putty clay. Mix well.