CDHM The Miniature Way
Tools
June 2010, Issue 6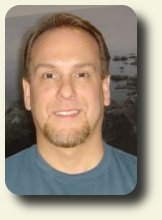 How to keep your mini
  secure while you work
John Allard
Staff Writer
---
One of the problems that face us miniature people is not having enough hands to hold things steady while we go about the delicate work of sculpting, gluing, or painting. How many times have you been holding something together and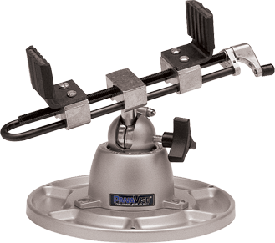 it's perfect until you realize that you have to let go now with one hand to do the actual work? I know it has happened many times to me (hopefully I'm not a special case), in any case it is always best to have both hands free when working so small and that is where the miniaturist's friend the "PanaVise®" comes into play.
This little vise is perfect for holding armatures while you sculpt, glue, or paint. The base flange can be clamped (with the optional c-clamp attachment) to your workbench or table, or it can be permanently screw mounted to your work bench if desired by installing three screws or lag bolts into the provided mounting holes in the base. The rotating, tilting head allows you to position it in darn near any angle you can think of which is great when you need to get into that tight space and have to hold the brush or other tool steady so as not to touch any other part.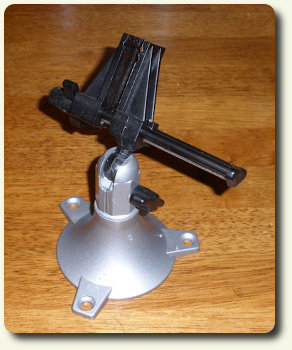 Simple twist release clamps hold everything snug, so when you need to change the angle just give it a twist, reposition, and twist to tighten back up again: easy. You can make up your own options and combinations by buying exactly the bit you need from PanaVise®. They have pretty much covered all the bases when it comes to holding your work.
My favorite PanaVise® is the wide mouth Model 201, with its small plastic jaws that can hold all my pieces from thick to thin without damaging any of them. The jaws also come with triangular shaped indents to hold things like rods or heavy wire armatures securely in both the vertical or horizontal positions. You say you work with wood or plastic sheets and need something more heavy duty? Well there is a vise for that as well, with its heavier metal body and strong plastic jaws, Model 301 will hold your small furniture or house projects together firmly without marring the finish.
Now at first blush you may find PanaVise® products to be a bit pricey, but I have to say that you get what you pay for, and with the PanaVise® line you get a great deal for your money. I have owned mine for over ten years - not that you would know it looking at it or using it, as it is still as strong, and flawless, as when I bought it all those years ago. Check out PanaVise's® website to see all of the available options they have that will give you the best third hand money can buy at panavise.com.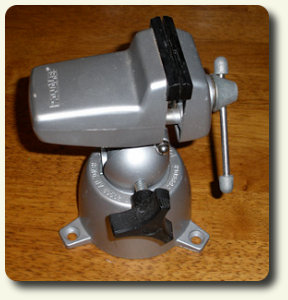 Another great clamping product I recommend and have also used for years is the adjustable micro bar clamp and spreader from American Tool called the "Quick-Grip®". Like its larger cousins that furniture makers, cabinet makers and carpenters all rely on, the Quick-Grip® is ideal for quickly and easily clamping parts together. Or if needed (with a minor adjustment) to spread things apart.
My favorite part of these clamps is that unlike earlier models of bar clamps that you hand to "wind" to tighten, these little beauties operate one-handed by pulling a trigger until tight. Much like a caulking gun, you grab the handle and squeeze the trigger to bring the jaws together, or in the case of the spreader option, to push things gradually apart.
Not only is this easier, but it is more precise and does less to disturb your piece as you tighten down. Winding almost always gives you problems with the alignment of parts because as you wind, you are moving the jaws not only together but side-to-side as well, unless you are very careful. This motion has a knack of misaligning the pieces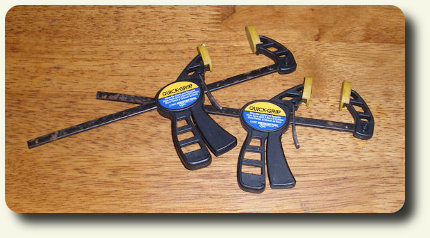 you are trying to clamp causing more than a few headaches, compound that with the fact that we are working very small and issues of broken parts are very likely.
The ratcheting motion of the Quick-Grip as it gradually pulls the jaws together, or apart, makes for a stronger, smoother and more precise connection with the pieces. To see other great examples of micro clamps you can always visit my favorite miniature tool store at micromark.com.
Till next time, don't get frustrated folks, remember: use the right tool for the right job and your work will always go smoother, and the results will be just right!