CDHM The Miniature Way
June 2011, Issue 17
Tutorial: 1:12 Worry Dolls
Page 26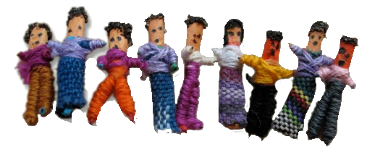 Images courtesy craftyteacher.blogspot.com
How-to by Jae Ireland, eHow Contributor
---
Join Jae Ireland, eHow Contributor, on a step-by-step tutorial on how to make Guatemalan Worry Dolls.
Worry dolls are popular in Guatemalan culture. When a child is scared or worried, he is given a small, cloth bag filled with small dolls made of bits of sticks and thread. The child is to tell her worries and fears to one of the dolls, and then place the doll under her pillow until morning. In the morning, the doll is gone, taking the worry along with it. Making your own worry dolls is a thoughtful gift idea for the children in your life, and they are fairly easy to do with minimal materials.
Materials Needed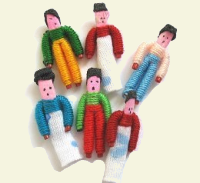 ►

Toothpicks
►

Embroidery Floss In Various Colors
►

Small Bead That Fits The Toothpick
►

Pointed Scissors
►

Tacky Glue
►

Hot Glue Gun and Glue Sticks
►

Tweezers (Ooptional)
-----------------------------------►  
Let's get started!
  ◄-----------------------------------