CDHM The Miniature Way
April 2011, Issue 15
Haunted and Spooky
Page 25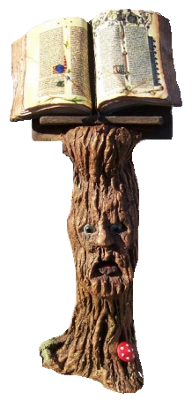 considered evil. During this time, the hat became associated with the horns of the devil and anyone wearing one was considered a follower of Satan.
By the Victorian era, artists had made the image of the old crone wearing a witch's hat the norm. Witches wearing the tall, black-brimmed hat were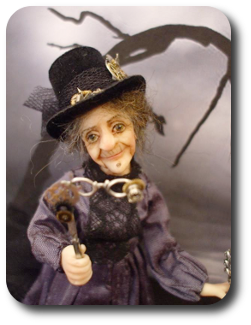 depicted flying on their brooms in the dead of night, or standing over a cauldron casting spells with a black cat somewhere in the picture.
As children we have all grown up with fairy tales that depict a wicked witch and most of us have seen "The Wizard Of Oz©."
I personally think that the witch is a bit hard done by. I like to imagine her to be a kindly soul, 1:12 Spooky bookstand by CDHM Artisan Karin Caspar of KC Design Miniatures
rather then who is there to help with advice and heal with her herbs, hinder. 1:12 Witch by Julie Campbell
So what hat would your miniature witch wear? A ringlet of flowers, a head scarf, Steampunk or would tradition win out with the black pointy one? Take a look in the CDHM Galleries and see what our artists have chosen.
Copyright

©

2011
Custom Dolls, Houses & Miniatures / CDHM