CDHM The Miniature Way
February 2011, Issue 13
Mini Found Objects
Page 28

In the hardware store
and bait shops andů
By Lu Garcia
Staff Writer
---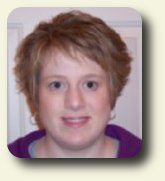 What is the best ingredient to cook with? Love of course! No fancy equipment or expensive ingredients are necessary when a culinary creation truly comes from your heart.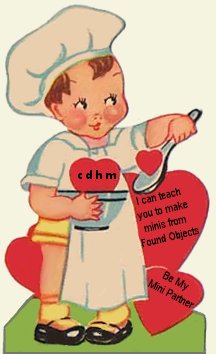 Sometimes it is all about presentation. I know some families who serve cake on a certain "birthday plate" on that special day. And some of the most memorable meals are not from the food itself but from the conversations that take place around the table.
One of the best ways to bring people together is to offer something to eat. Even if you don't have a lot of time to make a huge meal, bake a simple cake and serve coffee or tea for a quick visit. Stir up a little cheer for someone who feels under the weather and show them how much you care.
I have to admit, I love the aroma in the house when baked goods are fresh out of the oven or a pot of soup has been simmering all day long. To me, that is heaven! And a hearty stew will surely warm you up on a chilly February day. I thought that this little stock pot and ladle would be a perfect addition to a mini kitchen. So come shop with me to gather the necessary pieces.
Copyright

©

2011
Custom Dolls, Houses & Miniatures / CDHM