CDHM The Miniature Way
November 2010, Issue 10
Tutorial: Carved Chicken
Page 96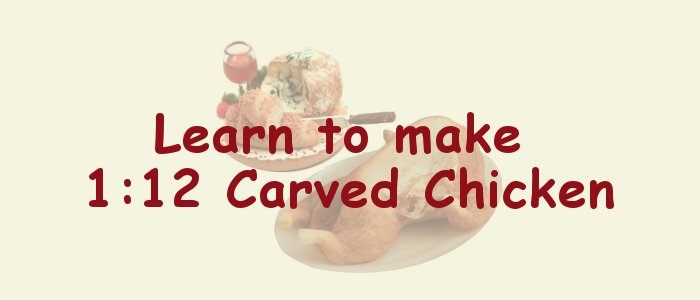 Photographs and
How-to by
IGMA Fellow Linda Cummings
---
Let's learn the techniques used for making a carved chicken in 1:12 scale. Linda Cummings, IGMA Fellow will walk you through step-by-step instructions on how you can make your own carved chicken.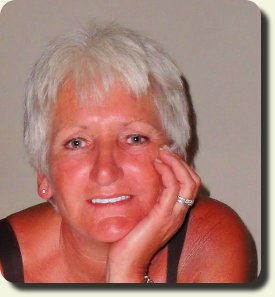 Materials Needed


►   

Fimo© Classic: Polymer Clay




 - Champagne 02




 - Translucent 00




 - White 0




 - Yellow 1


►   

Fimo© Soft: Polymer Clay




 - Champagne 70




 - Translucent 014




 - White 0




 - Yellow 15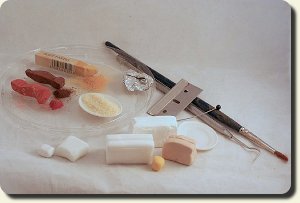 ►   

Artist Pastels




 - Ochre




 - Raw Umber




 - Terracotta


►   Semolina For Texture


 (http://en.wikipedia.org/wiki/Semolina)


►   

Tools




 - Tin Foil, Pin, Dental Pick (Optional), Razor Blade: Single Sided Type, Soft Bristled Paintbrush,




 Cocktail Stick (With One End Broken Off), Baking Tray: Foiled & Kitchen Paper-Lined For Baking, and




 Your chosen platter to display your chicken!
---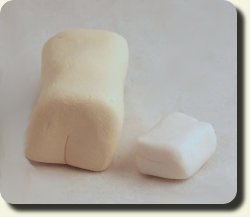 Step 1

Mix approximately 8mm (or approximately 1/3") of white clay and 16mm (or 2/3") of the translucent clay for the body carcass of your chicken. Condition and mix beige, translucent, and white (1:1:2) clay with a tiny touch of yellow clay to make a creamy coloured mixture.


Note:

Using a pasta machine will speed this up for you! If you feel that the mix is too dark, add ½ + ½ more translucent and white clay until you achieve a colour you are happy with.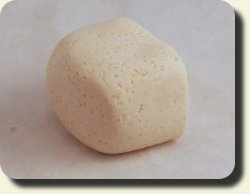 Step 2

Now take the semolina and mix it into your creamy coloured clay. An easy way to do this without getting semolina everywhere, is to put the semolina in a small plastic bag and squish your clay into it – then work the clay over a bin to catch the excess semolina.


Note:

Do not add the semolina near your work area, otherwise you'll find annoying bits of it in everything you do for quite a while afterward!!