CDHM The Miniature Way
April 2011, Issue 15
Small Scale Miniatures
Page 51
Even tinier than the Spring Peepers, no garden is complete without a little gnome watching out for it. Linda's darling hand-carved garden gnomes are suitable for any setting in either 1:12 or 1:24 scale. They are carved from limestone or from wood. The wooden gnomes are then hand-painted and fully detailed in bright color and can be carved in many different poses. Should you desire a tiny gnome to enhance and delight your small scale garden, let one travel on its way to you. The little gnome's journey begins in Linda's gallery.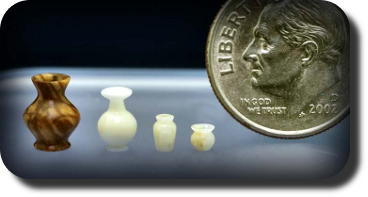 Debie Bouey of GalleryB Miniatures turns exquisite vases in 1:24 and 1:48 scales, all from nature. Finding beauty in all of the woods that nature bestows upon us, from the grains that can be considered 'plain' to the most spectacular exhibition grade figuring!
She works with some very rare woods such as Snakewood, Pink Ivory, BE Root and can even inlay some of them in 14k gold. Here are a few ultra-tiny 1:48 scale, legal, pre-ban Elephant Ivory turnings that Debie offers.
As we have said goodbye to winter, take delight in the new season and let it put a spring in your step!
Copyright

©

2011
Custom Dolls, Houses & Miniatures / CDHM