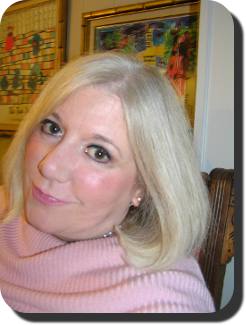 There are few people capable of handling all of the myriad disciplines involved in the creation of fine miniature products. Some are adept at building an actual piece, but are incapable of designing or marketing. Others may be adept at marketing and visualizing a piece, but have no idea of the "hands on" aspect of putting it all together. Ann Vanture of The Bottega Design Studio and Paper Minis does it all and she does it with style!
Ann creates stunningly detailed paper miniature accessories for the dollhouse community. She offers just about everything a collector could want. Most of her work is in the popular 12th scale, however a quick look at her web site uncovers minis in scales ranging from 1/3 to 144th.
"My designs are mostly one inch dollhouse scale, do-it-yourself, pre-printed accessories kits. However, I offer complimentary downloadable projects in 1:24, 1:12, 1:6 and 1:3. Practicing with these complimentary projects is a great way to learn the hobby before cutting into a purchased kit.